Rooney's Euro 2012 remorse
England striker Wayne Rooney is blaming no-one but himself for his European Championships ban.
Last Updated: 04/11/11 2:06pm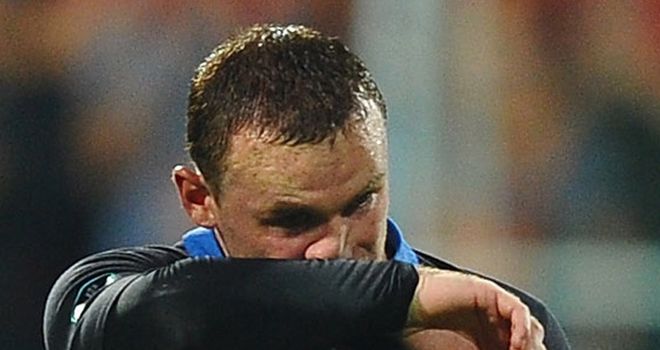 Wayne Rooney is blaming no-one but himself for the suspension which has ruled him out of England's first three matches at next summer's European Championships.
The FA have until 5pm on Friday to formally appeal against the ban the Manchester United striker incurred for his dismissal in last month's qualifying match in Montenegro.
The victim of Rooney's challenge, defender Miodrag Dzudovic, has written to UEFA to lend his support to the striker.
However, Rooney insists there is no-one to blame but himself and said: "Obviously, it's devastating for me but it's something that's my own fault, so I can't really complain.
Stupid
"It was stupid by me - I regretted it as soon as I did it. It's no excuse, but I still feel the punishment is a bit harsh. I'm disappointed with it.
"All the details we have been waiting on have come through, so we'll be making a decision as to whether we will be appealing. Even if it's reduced by one game, it will be a bonus for me."
Rooney added that he has no idea why he kicked out at Dzudovic, earning a straight red card in England's 2-2 draw in Podgorica last month.
He explained: "I honestly don't know why. It was just one of those moments which I live to regret now.
"There was no tackle beforehand, and I didn't think 'I'm going to beat him.' It just happened. I can't explain it."
Other players
And the forward accepts he may now be left out of the squad for the forthcoming friendlies against Spain and Sweden as Fabio Capello looks at other options up front.
Rooney added: "It's down to the manager now to play other players.
"I want to be there and I want to be part of the team.
"But I'll understand if I'm not in the next squad because I'll be missing out on those first three games at the minute and he has to look at other players - it's as simple as that."