Capello to meet FA over Terry
Fabio Capello will reportedly meet the FA later this week for talks over the decision to strip John Terry of the England captaincy.
Last Updated: 06/02/12 6:16pm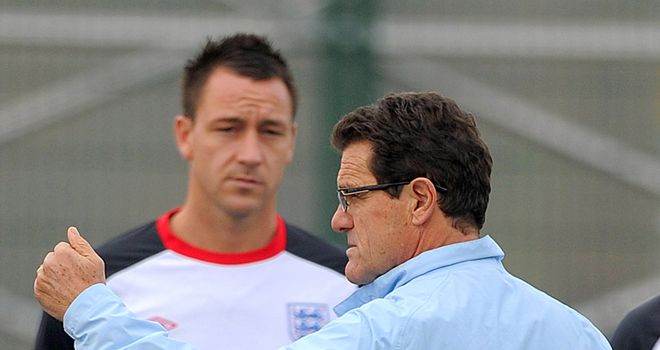 Fabio Capello will reportedly meet FA chairman David Bernstein later this week for talks over the decision to strip John Terry of the England captaincy.
The England boss has come under fire from one of his predecessors, Graham Taylor, for going public with criticism of Bernstein's decision to go over his head and take away the captaincy from the Chelsea defender.
Capello, whose contract expires after Euro 2012, will reportedly meet Bernstein later this week for the first time since the FA announced on Friday their decision to remove the armband from Terry until the outcome of his court case in July where he denies a charge of racially abusing QPR's Anton Ferdinand.
Capello on Sunday told Italian TV he "absolutely" disagreed with the action but Taylor, England manager from 1990-93, said he should have kept his feelings behind closed doors.
Taylor said: "It doesn't help the situation at all, as England go into the European Championships. I can't see what Capello's agenda is. All it does is disturb everything even more.
"It may be that he wants the FA to take a decision on this job. It depends really on how strongly he feels about it.
"To come out in this public fashion actually, in one respect, gives England an even bigger problem for the selection and harmony of the squad for the European Championships."
Whoever chosen
Taylor pointed out that whoever is now chosen as England captain by Capello will know full well that the Italian would prefer to have Terry in charge.
He added: "Fabio Capello, having been told by the FA in a private situation what they were going to do, has been a little bit unwise to come out as publicly as this.
"Whoever he makes as captain knows that he is not the manager's choice. That in itself doesn't help the dressing room.
"The FA apparently told Capello in private what they were going to do and why they were going to do it. He disagreed with it and it was noted. The best thing would have been for that to stay there, and not come out in such a public fashion."
Meanwhile, former FA executive director David Davies also suggested the Italian may have been in breach of his contract to speak out in such a way.
Davies, who left the FA in 2006 before Capello was appointed, said: "It is being taken very seriously by the FA because it may be that Fabio Capello has breached his contract.
"You have to ask what his motive is. You have to suspect he wants to prevent John Terry retiring as a player before Euro 2012 but there are wider issues.
"A contract may have been breached, there is strong leadership now at the FA from David Bernstein. Last week he wasn't slow to take things forward and he may not be slow to do so now."
Remarks
Capello, who was due to attend Liverpool's Premier League match with Spurs at Anfield on Monday night, made his remarks in an interview with Italian broadcaster Rai in London on Sunday.
Asked whether he was in agreement with the decision regarding Terry, Capello replied: "No, absolutely not.
"I have spoken to the chairman and I have said that in my opinion one cannot be punished until it's official and the court - a non-sporting court, a civil court - has made a decision to decide if John Terry has done what he has been accused of.
"I thought it was right that Terry should keep the captain's armband."
The FA are working on a code of conduct covering all selection criteria for England players that should be up and running for next season which will cover anyone charged with a criminal offence.
The aim of the review, which has been going on for four months, is to remove any grey areas surrounding selection issues.