Steven Gerrard hails Ashley Cole as one of best left-backs in world
Steven Gerrard has praised Ashley Cole as "one of the best left-backs in the world" as he prepares to win his 100th cap.
Last Updated: 05/02/13 10:27pm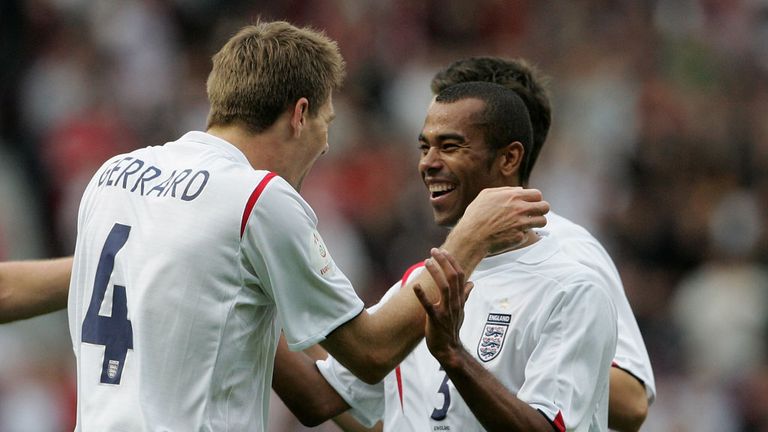 Manager Roy Hodgson confirmed the Chelsea defender would start against Brazil at Wembley and Gerrard - who won his 100th cap in November - paid tribute to his England team-mate.
"I look at the players that I've played with throughout my career and he's certainly been the most consistent player," said the Liverpool captain.
"I think he's proved he's one of the best left-backs in the world."
Gerrard believes the friendly on Wednesday is good preparation for England's upcoming matches, with the trip to Montenegro in March the decisive fixture in World Cup qualifying.
"It's exciting times, I think the FA has produced some fantastic fixtures for us players and certainly ones that will whet the appetite," he added.
"We start against Brazil, I know it's a friendly but we want to win this game and go into the important qualifiers in March in good form."
Arsenal midfielder Jack Wilshere recently stated he would like to emulate the achievements of Gerrard, and the Liverpool skipper was full of praise for the youngster on Tuesday.
"He's certainly got the talent and the ability to be a top player not just for Arsenal but for England as well," he said.
"I think not just myself but all the other players in the dressing room and managers as well are happy to have him back, and I'm sure the supporters are too.
"He's had a difficult time with injury I felt for him because I've been there myself and fingers crossed he can avoid injuries in the future and he can get a run of games in this team."