England striker Danny Welbeck has spoken of his admiration for Brazil
Ahead of Sunday's friendly in Rio, Danny Welbeck has spoken of his admiration for Brazilian football.
Last Updated: 31/05/13 10:23am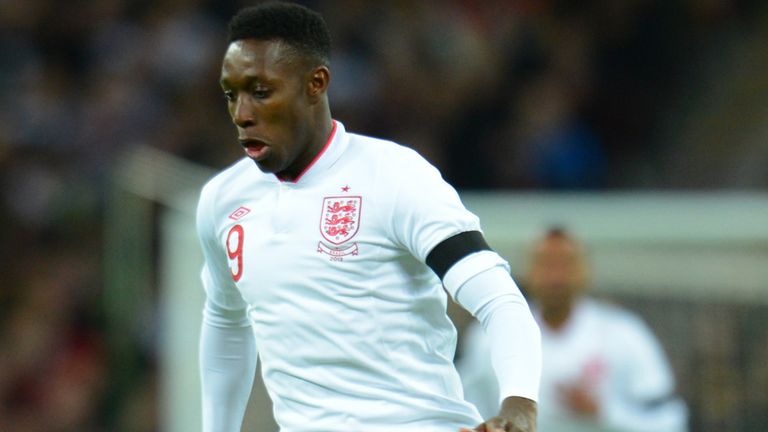 Welbeck has been in awe of Brazil ever since he sat spellbound on his sofa as an 11-year-old watching Ronaldinho knock England out of the World Cup.
The Manchester United forward is far too young to have seen anything of the true halcyon days of Brazilian football other than on YouTube or DVD.
Yet the magic of those famous yellow shirts retains all the power of old, while the last of their five World Cup triumphs came in 2002.
Welbeck had not even started secondary school at the time. But the lesson he received through his TV screen on June 21 was an invaluable part of his footballing education.
Welbeck said: "I remember watching that game with all my family and obviously the main memory is the goal Ronaldinho scored.
"At the time, I couldn't work out whether he meant it or not. Looking back now he 100 per cent meant it.
"It is part of the magic that sets Brazil apart from the rest and I have followed them ever since.
"Obviously I wasn't born when Pele was playing at World Cups but I have watched plenty of videos, both of him and other great players.
"It is not hard to understand what a good side they have been."
There is plenty of stardust in this present Brazil squad too.
The fact Welbeck's United team-mate Rafael, who made such rapid improvement in the Premier League this season, has not been considered for Luiz Felipe Scolari's squad for Sunday's high-profile friendly at the Maracana Stadium emphasises the talent at their disposal.
Main man now is 21-year-old forward Neymar, whose performances for Santos have persuaded Barcelona to stump up in excess of £50million.
"He has created quite a few YouTube victims," said Welbeck, referring to the number of internet clips in existence of Neymar making a mug of some hapless defender.
"He is spectacular and someone the fans love to see."
Facing Brazil will be another significant milestone in Welbeck's career, completing a remarkable 12 months on the international stage given the huge impact he made at Euro 2012.
Yet the 22-year-old is not entirely happy, for at Manchester United he cannot escape the statistic of scoring only twice all season.
Even if one of those goals came against Real Madrid in the Bernabeu, it is not a tally that allows Welbeck to look back with any degree of fondness at, but it is notable that he has only started twice in a striking position for United all season.
"Overall, there have been improvements to my game and I have been more consistent," said Welbeck.
"But I have been playing on the wing, which has inhibited my ability to get into goalscoring positions this season.
"I have played up front for England, been away to tournaments, and scored goals there so I know once I get into those positions I will put the chances away.
"I am also aware that knowing how to play in different positions and developing in different areas of the pitch and will only benefit me and the teams I play for.
"I am happy to help the team out and it doesn't really matter whether I am playing on the wing or up front, I should have had a much better goal return."