Ray fears for English talent
England's best prospects are being denied a crack at the big time because of a worrying "blockage", according to Ray Lewington.
Last Updated: 12/08/13 10:42am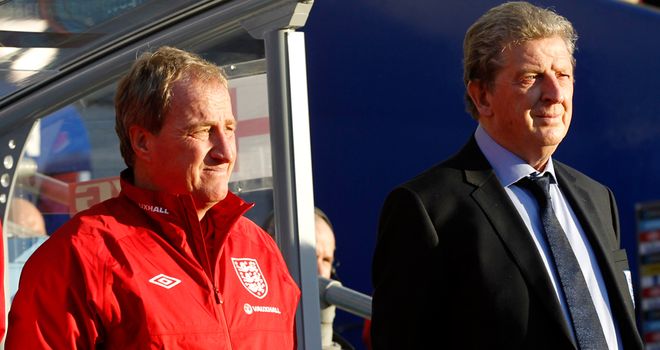 And Lewington believes the worrying "blockage" is being caused by the number of foreigners in the Premier League.
Concerns about the future of English football came to the fore again this summer after the Under-21 side - often seen as the feeder team to the senior squad - flopped at the European Championship, losing all three matches and scoring just one goal in the process.
New Football Association (FA) chairman Greg Dyke has admitted he is concerned about the swathes of foreign players in English football and Lewington also appears to have his worries.
Lewington has been working with the Under-21 side this weekend on a one-off basis ahead of Tuesday's friendly against Scotland and he has been impressed with the young talent in the current squad.
Raheem Sterling, Jonjo Shelvey and Tom Carroll all impressed during Sunday's training session at St George's Park, but they have all had limited first-team experience due to intense competition from foreign stars at their respective clubs.
"We are producing some exciting talent, but there is a blockage and they don't get through," England's assistant manager said.
"The blockage is there because there are lots of foreign players coming in. It's great for the league. But from an English point of view it means there are so many blockages on the way to the top.
"Players who would have got their chance a lot earlier have to wait a little longer. Football is instant now, managers can't take chances.
"We have tipped the balance at the moment. It's hard for the young players to break through.
"England will always produce good players, we are a footballing nation, it's just whether they will get their chance."
This debate is hardly a new one, of course. Every time the senior or Under-21 side flop at a major tournament, the number of foreign players in the English game is always cited as a huge problem in the post mortem.
A home-grown squad quota system has failed to boost the number of British players playing top-flight football and the Premier League still has the highest number of foreign imports than any of the top championships in Europe.
New FA chairman Greg Dyke, who assumed his position in July, hinted on Sunday that he wants to rectify the problem.
"I'm getting some research done and doing some myself and in early September I plan to make a speech about where does the England team go from here and foreign players is part of that," Dyke told BBC Radio 5 Live's Sportsweek programme.
"Can you change it so there are more English players? That's one of the challenges."
Hodgson's commitment to bringing through the next generation of England stars certainly cannot be questioned.
Hodgson clocked up 260 miles on Saturday as he attended a charity event in Lewisham and then watched Rickie Lambert play at Southampton before driving up to St George's Park in Burton-upon-Trent to welcome the Under-21 squad.
The England boss, who turned 66 on Friday, then put the Young Lions squad through their paces in a two-hour long training session on Sunday morning.
The Under-21s' dismal performance in Israel was attributed, in some parts, to an unprofessional attitude from some members of the squad.
Hodgson laid down the law to his young charges this morning ahead of Tuesday's game against the Scots at Bramall Lane.
"Roy's had a word with them today," Lewington said.
"When they come to England they have to be prepared to wear the shirt with a bit of pride, go out and do all the things that we would expect of them."