World Cup: Andros Townsend insists Roy Hodgson's joke was meant as a compliment
Andros Townsend has tried to end the controversy about Roy Hodgson's joke by suggesting it was meant as a 'compliment'.
Last Updated: 18/10/13 3:43pm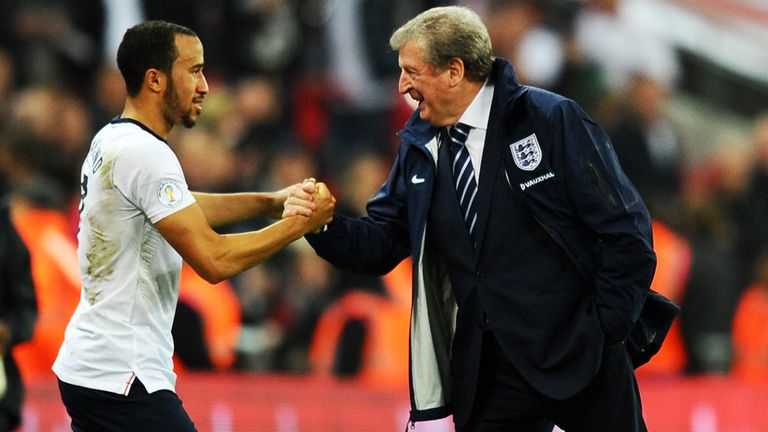 The England manager used a joke about NASA sending a monkey and a human into space to illustrate the need for his team to give Townsend the ball in Tuesday's 2-0 win over Poland.
This incident has since been leaked to the press, sparking a row which led to a letter of complaint being sent to the Football Association by a pressure group.
Hodgson expressed frustration that his side's achievement in reaching the World Cup had been overshadowed and Townsend has echoed this view.
"It has all been said now, it has been in the news the last few days and I think everyone should focus on us qualifying for Brazil and not focusing on negative, silly news," he said.
"The manager told the player to give the ball to me, so that is a compliment in a way."
Townsend's club manager Andre Villas-Boas is also keen to draw a line under the incident.
"Roy assumed his responsibility, apologised, there was no offence taken (by Townsend). It's the end of the matter," said the Spurs boss.
QPR manager Harry Redknapp has spoken out in support of Hodgson and is full of sympathy for the man who beat him to the England job.
"Roy Hodgson is a great guy and he's certainly not a racist, not a chance," said Redknapp.
"The only advice I could give Roy, and he's been around as long as me, is to keep his message the same he gives his players, keep it simple.
"There was nothing racist meant about his comments, no way.
"Somebody comes out and tries to cause a problem for him and that's a shame after such a great night. Hopefully it will all go away and we can move on."
The FA was quick to give Hodgson its full backing, while Hodgson believes the incident has put a significant spoiler on England's achievements in the past few days, telling the Daily Mail: "Joy is short-lived in this job. The players are as angry about this as I am.
"We have just had a successful period and, although I wouldn't suggest we intend to rest on our laurels, I think we have earned the right to enjoy the fruits of our labours. Instead we get this.
"You would have to go a long way to find somebody who is less racist than me.
"I have coached almost everywhere in the last 37 years, worked with all kinds of people, so this intimation of racism - you can hardly call it a story - is so saddening.
"I admit some of the younger players may not have understood the reference to the monkey in space.
"They may not have heard the expression before but that's a generational thing. I meant "give the ball to the player who can make things happen". There was no other connotation and no offence was taken by any of the players."
Striker Wayne Rooney described the accusations of racism against Hodgson as "absolutely ridiculous", following up a Twitter defence of his manager with a statement on his website.
The Manchester United striker said: "To be honest, it's really annoying that something such as this should see the light of day.
"All the lads know what type of guy Roy is, and to try and pin some form of label on him is absolutely ridiculous.
"Roy spoke to Andros straight away, who took no offence whatsoever. Hopefully that's now the end of the matter."