England coach Roy Hodgson says Germany may be slight favourites for Wembley friendly
Roy Hodgson and Daniel Sturridge say they are aware England face a major test against Germany tonight.
Last Updated: 19/11/13 3:05pm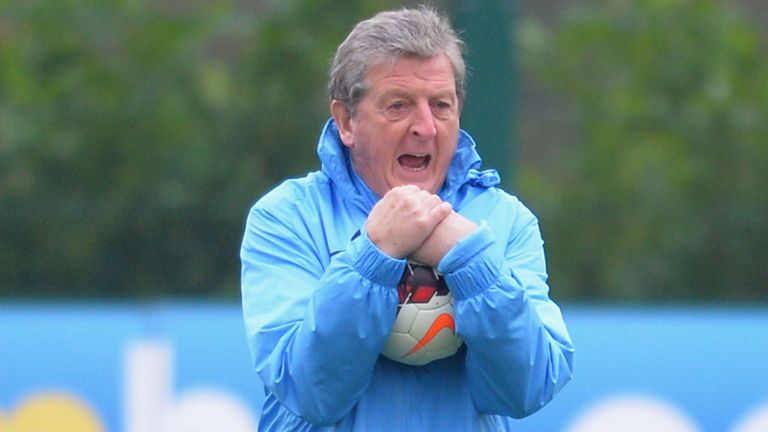 Having lost to Chile last Friday, England are in danger of suffering back-to-back home defeats for only for the fourth time since the Second World War, and the first time in 36 years.
And they will be up against a German side who are ranked second in the world and who scored just once against Italy last week but managed three or more goals in their nine previous fixtures.
Hodgson thinks Germany have a slight advantage and said: "They have got a bit more time behind them, working as a team, working together. We're still looking for that time.
"We've got it all to do but they've got a lot to do as well because, at the moment, I read that they and Spain are favourites out of the Europeans to win the World Cup.
"So there's pressure on them too, maybe in a different way. Our pressure is to try and show we are as good as them.
"If you're going to prove you're as good as any opponent, there's only one way to do it and that's on the field.
"All the words in the world won't make us better, or worse for that matter. It's what we do when we cross that white line and get onto the green pitch. We're all fully aware of that."
Sturridge missed the loss to Chile with a foot injury but is fit to start against Germany and is also expecting a tough match.
"Germany have great individuals playing for them," he said. "It's a league on the rise and they've shown in the Champions League over the last couple of seasons that they are a big force.
"I think the German league in general is very intense and they have got powerful clubs in Munich and Dortmund."
However, Sturridge does not think England necessarily see Germany as a benchmark for them to judge themselves by.
"I wouldn't say so," he said. "We just have to worry about the way we play, not the opposition or comparisons or anything like that.
"I think we will just worry about what we do best and worry about improving as a team, as England, and not worry about anything else."
Germany are resting a string of their first-choice players but they are adamant the fixture is being taken seriously.
Arsenal defender Per Mertesacker said: "We have many players who have a played a lot of games this season, so we are giving vital players a little rest.
"But we have a decent squad and 30 players who play regularly. Others can play and they have a big chance to step forward."
And Chelsea's Andre Schurrle said: "We have much respect for the England team and we take this seriously, we want to win.
"I think we have many good players here."
England: Hart, Walker, Smalling, Jagielka, Cole, Gerrard, Cleverley, Townsend, Rooney, Lallana, Sturridge