World Cup: Loyalty won't guarantee England squad place, says Roy Hodgson
Roy Hodgson insists "loyalty" will not guarantee any England player a place in his final 23-man World Cup squad.
Last Updated: 09/03/14 8:30am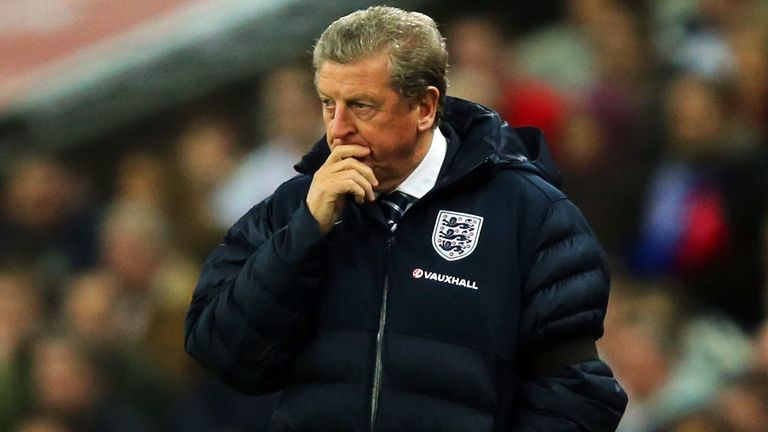 There is a little over two months remaining before Hodgson names his party on Tuesday 13 May for the tournament finals in Brazil this summer.
The England manager, who will also name seven standby players, has chosen a date three weeks in advance of the official deadline of Monday 2 June.
Last Wednesday, he watched England labour to a 1-0 victory over Denmark at Wembley, where the likes of Raheem Sterling, Adam Lallana and Luke Shaw all performed well.
Another Southampton player, Jay Rodriguez, was not used against the Danes but was on target in the Premier League for the 11th time this season when he netted the winner for Saints at Crystal Palace on Saturday.
None of those four players featured during England's qualifying campaign, but they will be encouraged by Hodgson's promise that he plans to select players on form, rather than out of loyalty to those who got the Three Lions through their qualifying group.
"The pressure does get greater now and I think people will have to accept that it is my job to pick the best 23, and I have to do it on the merits of the players," the England manager said.
"It's not like it has been in the past sometimes where loyalty can be rewarded."
The England boss admitted last week that he still did not have a clear idea of who the 23 would be, and the waters will have been muddied further by Wednesday's win.
Ashley Cole and debutant Shaw put in equally impressive displays to push their respective claims for a place in the squad behind first-choice left-back Leighton Baines.
Jack Wilshere suffered a foot injury but should be available for Brazil while Jordan Henderson started, showing that Hodgson is considering taking the Liverpool midfielder even though he had only made one previous start - four years earlier.
Debate will continue about who deserves to go to South America right up until May 13 and throughout England's involvement in the tournament, but Hodgson is prepared for any backlash he receives regarding his selection.
"If you are on the plane, you are on it because I really believe you have a role to play and I could justify it to myself," the 66-year-old said.
"People will say 'he has made a mistake by not choosing him' but that doesn't interest me as much.
"I need to justify it to myself, I need to know I made the right decision and then I will accept other people's criticisms."
Hodgson is glad that one selection problem has cleared itself up with regard to his goalkeeping options.
When England last met up, Joe Hart was out of the Manchester City team, but he has since won his place back and he looked comfortable on the odd occasion that he was called upon at Wembley.
But Hodgson was also happy with the way that fit-again Ben Foster performed in training that week.
The 29-year-old did not have the best of days for West Brom against his old team Manchester United on Saturday, but Hodgson is a big fan of the stopper and he has told Hart he cannot expect to walk straight into the team when the World Cup comes around.
"It has been very good to have Ben Foster back with us," said Hodgson, who persuaded Foster to come out of international retirement last year.
"He was very good when he came back in and then I missed him for five or six months (through injury).
"One thing is for sure - when Ben is around, Joe knows he has a fight on his hands. Then we have the other two in Fraser Forster and John Ruddy so we are not short on quality.
"I will just have to disappoint one of them I guess unless we do what (England coach) Gary Neville says. He seems to think we should go with one goalkeeper, but there you go."