World Cup: Sir Bobby Charlton concerned at England's lack of world-class talent
Sir Bobby Charlton does not think Roy Hodgson's England squad can win this summer's World Cup in Brazil.
Last Updated: 04/06/14 11:52am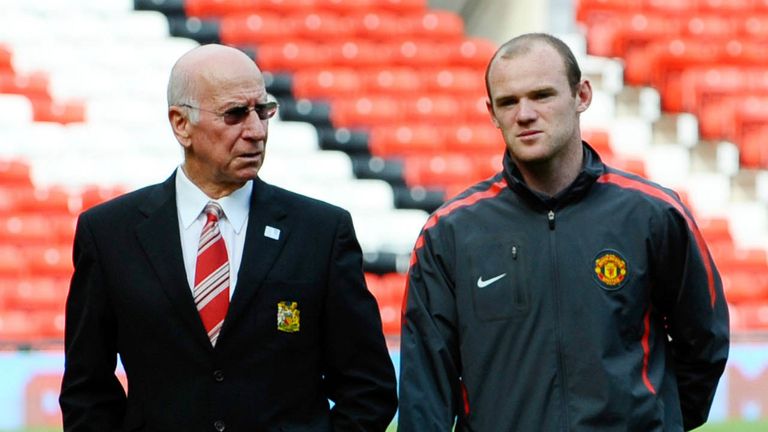 The former midfielder, who lifted the trophy in 1966, believes the current England squad is bereft of world-class talent and claims no European team will prevail in Brazil.
Charlton, who also claimed the Ballon d'Or in 1966, played in the latter stages of three World Cups on his way to 106 caps and has urged the younger members of Hodgson's squad to seize their opportunity on the international stage.
"While I don't think England can win the World Cup, I don't think they will be ashamed," he told Laureus.com.
"Any young player would jump at the opportunity of playing at a World Cup, because it might never happen again.
"The only thing that worries me is the shortage of actual world class players, which is what Fabio Capello said four years ago.
"It's unbelievable to think that England, with all its great history, cannot get enough players together for specific tournaments. That's something that bothers me a lot."
Emerging talent
While not opposing the array of international stars plying their trade in the Premier League, Charlton believes the development of home grown talent has been stifled by the constant influx of foreign players.
"I'm actually quite pleased with some of the young players but I cannot, in all honesty, say that I can think of England winning," he added.
"I am not against foreign players in the Premier League but it means we don't have enough English players.
"So we have to give these youngsters a chance in Brazil. But it will be unbelievably difficult."
Heading into the tournament striker Wayne Rooney is just 11 goals short of Charlton's all-time record of 49 England goals and the United director is backing the 28-year-old to surpass his mark.
"I told Wayne that if anybody is going to beat my goals record it had better be him - so don't let me down," he claimed.
"He's young enough and he has the ability. He likes the thought of scoring and he has a great attitude.
"If everything goes well and he is not injured he will certainly be England's great player in Brazil.
"He has a quality that is made for a World Cup. He's just got that something extra. He will thrive on a successful World Cup."
Rooney role
Critics have suggested that Hodgson should consider leaving Rooney out of his starting side given his recent form, but Charlton does not follow that argument.
"Wayne will have to play," said Charlton. "He is the only one that comes to mind when you think of our class players.
"There is a bit of doubt in my mind about every position apart from Wayne Rooney. And even he wants to play in a certain position. But Roy is a very intelligent man and he will know what to do."
Although Charlton refuses to rule out a European winner in Rio, he believes Argentina and England's Group D rivals Uruguay head into the tournament as favourites.
"I don't want to dismiss the European teams but the South Americans will be as tough as boots," he added.
"Luis Suarez is a great player. I've watched Uruguay over the years and they are desperately proud of what they have achieved.
"If I was choosing from all the teams Uruguay and Argentina are my favourites. Somehow I just do not think Brazil can win the World Cup."