FA say Arsenal midfielder Alex Oxlade-Chamberlain has a medial knee ligament injury
England are being forced to adopt a wait and see attitude over Alex Oxlade-Chamberlain's availability for the World Cup.
Last Updated: 06/06/14 8:01am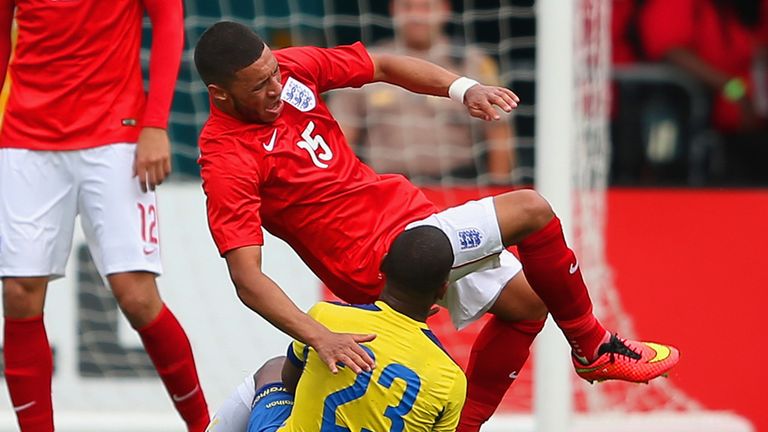 However, manager Roy Hodgson says the medical team are optimistic the Arsenal man will be fit for the tournament.
Oxlade-Chamberlain fell awkwardly after a clumsy challenge by Carlos Gruezo in England's 2-2 draw against Ecuador at Sun Life Stadium in Miami on Wednesday night.
Following scans taken on Thursday the FA released the following statement: "Alex Oxlade-Chamberlain sustained a medial knee ligament injury during Wednesday's game against Ecuador and will now be monitored and treated by the England medical team."
The player later tweeted: "Gutted to have picked up an injury yesterday. I'm staying positive and getting to work with the medical team on recovery..Fingers crossed!"
There was a more positive bulletin from Hodgson later on Thursday when he said Oxlade-Chamberlain would be given every chance to recover before the clash with Italy, also admitting it would be a big setback to lose the Arsenal winger's services.
At a Vauxhall Q&A session in Miami, Hodgson said: "He's had a scan and he has some damage to his medial ligament. We couldn't say for certain how long it would take but he will get extensive treatment.
"We've got the right, if we want, to replace him up to 24 hours before the first game but we'll do everything we can to keep him with us because we'd like to think we'll go beyond the group stage, and of course he played so well last night. He was undoubtedly our best player while he played and it would be a major blow to lose him.
"Our medical people are optimistic, he's optimistic, so we'll just wait and see and hope for the best."
Sports injury consultant Graham Smith told Sky Sports News of the predicament that England's medical staff find themselves in regarding Oxlade-Chamberlain's injury.
"When you saw the tackle live it looked quite innocuous but when you saw the replays you could see how much gapping of the knee there was," Professor Smith said.
"Clinically it will be very difficult to assess because it will be very painful so it will be very difficult to determine whether it is a grade one or grade two.
"If it is a grade one injury - a few fibres that have been damaged - then there is a chance of him being back quite quick because it's a few fibres, there's no instability and he will be able to rehabilitate quite quickly.
"If it's a grade two then there will be laxity I think you then have to look at the severity of the injury with particular regard to the importance of that ligament.
"This ligament plays quite an important role in that it stabilises the knee when it's straight.
"A grade two will take much longer (to heal) and the potential for re-injury is significantly higher. If it's a grade two then we are talking about potentially three weeks back to training."
Professor Smith added the next 48 hours is crucial in determining the extent of the 20-year-old's injury.
"This first 36-48 hours is about letting it settle down making sure it does not swell and effectively making sure he is not putting abnormal stresses and strains on it," Smith said.
"The crucial time is usually 72 hours after the injury when you can go in and do a proper clinical assessment.
"Probably at the 72 hour point the medical team will be able to say yes or no about whether this person has the possibility of recovering (in time for the World Cup)."