SFA chief executive Stewart Regan reckons Billy Stark can become new Scotland coach
SFA chief executive Stewart Regan is not ruling Billy Stark out of the running as new national coach.
Last Updated: 14/11/12 12:33pm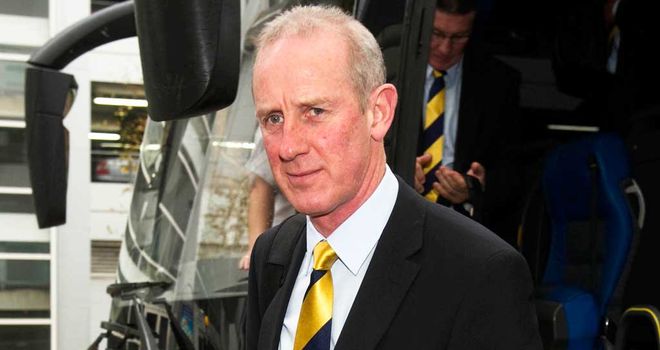 The Scotland U21 boss has taken temporary charge of the senior squad for the friendly in Luxembourg on Wednesday following the recent dismissal of Craig Levein.
And Regan believes the match at the Stade Josy Barthel will give Stark the ideal opportunity to prove his credentials for getting the role on a permanent basis.
"Billy has got a great opportunity to show what he can do," Regan said. "He's a great guy. He has been very committed to the under-21s.
"He has agreed to take this position on an interim basis, until the board have decided on the next step.
"Depending on how Billy performs and his own views, then clearly we would keep the door open for any potential candidate at this stage."
Stark played down his interest in the vacant post and insists his only aim at the moment is to get the best out of the squad at his disposal in Luxembourg City.
"The way I view it is I'm honoured and privileged to be asked to take the team," Stark said. "The main aim in a general sense is for the players to produce a good performance and a result, and I'm looking no further than that."
Wrangle
Meanwhile, the SFA have confirmed they are involved in a legal wrangle with Levein's representatives over his removal as Scotland manager.
Levein last week announced he was seeking legal advice after being "relieved of his duties" by the SFA, who said they would continue to honour his contract, which has 20 months to run.
Regan said: "Craig is entitled to his opinion. We made it very clear that Craig's contract had not been terminated, that his terms and conditions would be honoured up to the end of the contract in June 2014.
"It's a legally binding contract and that was our position that we set out very clearly last Monday night.
"Craig has taken legal advice which he is entitled to do and the matter is now being dealt with between Craig's lawyers and the Scottish FA's lawyers."
In a statement issued last Wednesday night, Levein said: "I note the position as stated by the Scottish Football Association but do not concur and I am currently taking legal advice as to my options."