Dundee United defender Andrew Robertson amazed to be called into Scotland squad
Andrew Robertson admits he was 'amazed' to hear he had been called up by Scotland for the friendly in Poland next month.
Last Updated: 19/02/14 4:22pm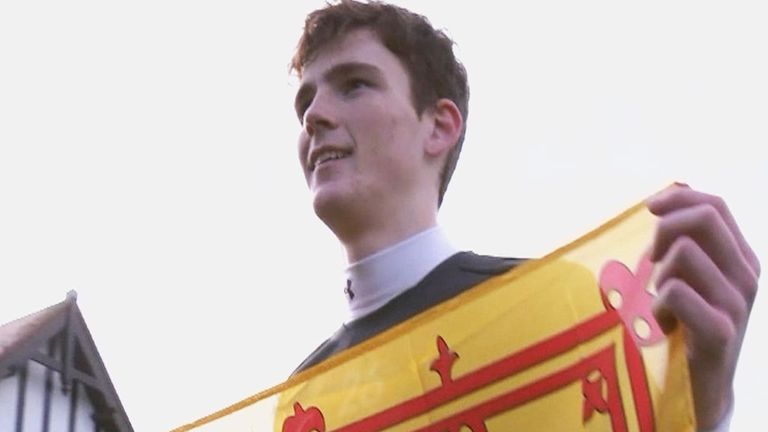 The Dundee United defender, who has been playing full-time football for less than a year, caught the eye of national coach Gordon Strachan at the start of the season.
He has played 25 times for his club this campaign and had been linked with a move to champions Celtic during the January transfer window.
"I saw him in the first game of the season against Partick Thistle and I thought he had something, although he was a bit raw and had one or two things to learn," said Strachan.
"So we've kept an eye on him, he joined us in training a couple of months back and we liked what we saw.
"We won't be putting too much pressure on him this time, we'll let him enjoy the journey he is on, playing with Dundee United and hopefully he'll enjoy meeting up with us."
Robertson, 19, who was playing part-time with Queen's Park this time last year, told Sky Sports News: "It feels amazing and it is a great honour to represent your country.
"Obviously I didn't expect it so soon but I am glad it has happened. It's a bit weird to think back where I was six or seven months ago to where I am now but I am glad the gaffer has given me this chance.
"I will learn a lot from this experience as I will be playing with players in the Premiership, and top clubs, and obviously getting coached by a top, top manager."
And Dundee United manager Jackie McNamara was quick to point out his young full-back 'fully merited his inclusion' in Strachan's party for Warsaw on March 5.
"I am delighted for him, and for his family, as he has come such a long way in such a short space of time," he said.
"It's fantastic for him and a great lift for him so early in his career. He's there on merit as he has been absolutely fantastic for us since the start of the season."
Watch the draw for the group stages of Euro 2016 live on Sky Sports News from 10am this Sunday