Euro 2016: Nations await Sunday's draw with England among top seeds
The home nations will discover who they will face in qualifying for Euro 2016 when the draw takes place on Sunday.
Last Updated: 23/02/14 10:58am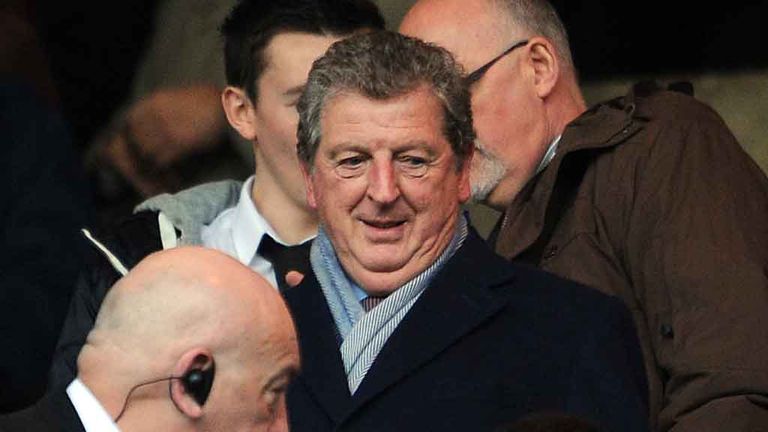 Roy Hodgson's side are one of the top seeds for the draw - which you xcan see live on Sky Sports News from 10am - and as a result will avoid being alongside Germany, Spain, Italy and the Netherlands.
Scotland and Wales are among the fourth seeds with Northern Ireland included in pot five.
The Republic of Ireland are in pot two.
France will host the finals of the tournament, which will see 24 teams compete in an expansion from the 16 teams that have challenged for the event since 1996.
The draw, which will decide on which teams comprise the eight groups of six and one group of five, takes place on Sunday morning at 11am GMT.
Qualification runs from 7 September 2014 until 13 October 2015 with play-offs held over two legs in November.
The draw for the main tournament is on 12 December 2015 and the finals get under way on 10 June 2016.
England boss Roy Hodgson has warned against underestimating teams in qualification.
"Sometimes people just judge teams on names," said Hodgson. "No-one was saying 'blimey Montenegro'. People were tending to suggest they're a piece of cake but it certainly wasn't a piece of cake.
"In pots three, four and five there will be some good teams in there.
"What about the Home Nations? If we get drawn against Northern Ireland, that is not a gimme."
The seedings for the Euro 2016 qualifying tournament have been decided by UEFA's coefficient system, which differs from FIFA's world ranking in that it takes into account results from the World Cup in 2010 through to qualification for the following World event in 2014.
In a rule change from previous tournaments, qualifying for Euro 2016 will see UEFA unveil its 'week of football' idea, with qualifiers taking place every day from the Thursday to Tuesday of double-header international weeks.
Each country would have a two-day gap between matches, with eight to 10 qualifiers taking place each night.
UEFA will also organise the fixtures to try to ensure that no more than two teams from the six top TV markets - England, Germany, France, Italy, Spain and Holland - are in action on the same day.
In another rule change from previous tournaments, hosts France will take part in qualifying.
However, no points will rest on their matches with the change occurring because the hosts have, in previous years, found it difficult to arrange fixtures to prepare them for the tournament.
UEFA president Michel Platini has confirmed that France will join the qualifying group containing five teams, which will contain none of England, Germany, Italy, Spain or the Netherlands due to television rights reasons.
Seedings for the Euro 2016 draw:
Pot 1: Spain, Germany, Holland, Italy, England, Portugal, Greece, Russia, Bosnia-Herzegovina.
Pot 2: Ukraine, Croatia, Sweden, Denmark, Switzerland, Belgium, Czech Republic, Hungary, Republic of Ireland.
Pot 3: Serbia, Turkey, Slovenia, Israel, Norway, Slovakia, Romania, Austria, Poland.
Pot 4: Montenegro, Armenia, Scotland, Finland, Latvia, Wales, Bulgaria, Estonia, Belarus.
Pot 5: Iceland, Northern Ireland, Albania, Lithuania, Moldova, Macedonia, Azerbaijan, Georgia, Cyprus.
Pot 6: Luxembourg, Kazakhstan, Liechtenstein, Faroe Islands, Malta, Andorra, San Marino, Gibraltar.
Watch the Euro 2016 draw on Sky Sports News, with live coverage from 10am this morning.