European Qualifiers: Darren Fletcher believes Scotland can qualify for Euro 2016
Last Updated: 06/09/14 1:05pm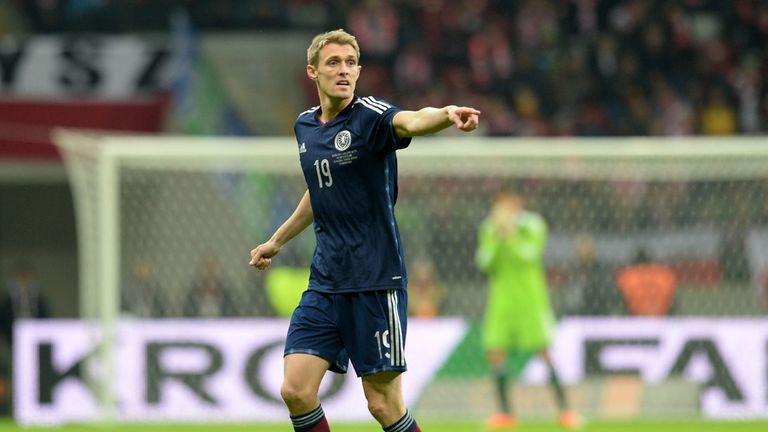 Scotland midfielder and Manchester United vice-captain Darren Fletcher believes Scotland can get out of Group D of the European Qualifiers and reach the finals.
Fletcher feels that Scotland can qualify from the same group which features the Republic of Ireland and Germany, even though the first game away to the World Cup-winning Germans on Sunday night presents the toughest of starts. 
"It's exciting times around the squad. We've had some fantastic results and now is the time where it really counts," the Manchester United midfielder told Sky Sports News HQ.
''We need to start producing; the good form and the good results need to start now. This new campaign, we want to get off to a good start and it helps with confidence and all different factors like that but we're aware that probably the toughest game of the campaign is the first game.
''We want to start the campaign well with a positive result but, if it doesn't, then it's not the end of the world and I think you've got to look at it both ways.
''It's a long campaign and we want to be one of the teams standing there at the end and it doesn't matter which way you do it whether it's a strong start or strong finish, it's all about being there at the end and keep believing.''
Scotland were drawn in the same group as Spain in the qualifiers for the 2012 European Championship and Fletcher sees similarities between their style of play and Germany.
He added: ''I think they've got a very Spanish influence. I think the introduction of Guardiola to Bayern Munich, with a lot of Bayern Munich players in the German squad, they play a very similar style. A possession-based style, dominating possession - it's a team game as well.
''Although they have fantastic individuals all coming together to make a fantastic team, I think that's why they're world champions so we're going to be up for a real tough battle.'' 
Although Fletcher sees Germany as a difficult start to the campaign, the 30-year-old sees qualification as more than a possibility.
He said: ''I think we've got a great chance this time. I think you look at Germany as the standouts in the group and then after that the teams are quite evenly matched behind them. It'll be a battle for those second and third places but we've got to believe in ourselves and if we can perform to our capabilities then I'm sure we can (qualify).''
Live coverage of the European Qualifiers this Sunday - including Germany v Scotland - is on Sky Sports 5 HD from 4pm.