Brady just wants to play
Robbie Brady is anxious to secure another loan move away from Manchester United in order to get more international opportunities.
Last Updated: 07/10/12 4:35pm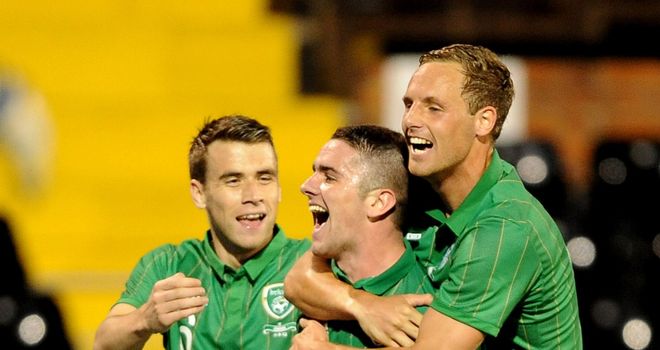 Robbie Brady is anxious to secure another loan move away from Manchester United in order to get more international opportunities.
Brady starred for the Republic of Ireland on his debut against Oman in a 4-1 friendly win at Craven Cottage.
The 20-year-old scored one goal and set up two more in a memorable left-wing display that left reprimanded James McClean in the shade as he sat on the bench for the first hour following his Twitter indiscretions.
Brady, who enjoyed a lengthy loan spell at Hull City last season, is now keen to keep playing football so that Giovanni Trapattoni will be persuaded to make him a first-team regular with Ireland.
"I want to stay playing," said Brady. "I don't want to come in and doss about so I need to be playing as many club games as I can.
"If that means I need to take a loan move, I will. We'll see what happens. I'd just like to play as much football as I can and hopefully I can push on and keep playing."
The Dubliner delivered an eye-catching performance as he terrorised his full-back and whipped in a number of devilish crosses.
But Brady, who was only drafted in to the full squad from the Under 21s on Saturday, claims he could have done even more to impress.
Delighted
"I'm delighted with the way it went, with a goal and an assist, but I thought I could have done more," added the wide-man, who is still waiting to make his Manchester United debut.
"I wasn't disappointed, but I felt I could have done a bit more by getting on the ball a bit more.
"Overall it's been great for me. I've gotten on well with everyone.
"Kevin Doyle is a great bloke, him and the rest of the guys are great. They've made me feel part of the group."
Trapattoni was cautious with his praise of Brady, pointing out that there is much for the youngster to work on.
"Brady played well, he has good creative qualities," said the Ireland boss.
"But I spoke with him after the game and told him he needs to understand that although he is a good dribbler and he shows good personality, he must also sometimes play it simple.
"There were two or three times last (Tuesday) night where he missed the opportunity to pass the ball."
Another debutant who impressed last night was Sunderland midfielder David Meyler.
The 23-year-old was poised to make his Republic bow two years ago but two serious knee injuries meant he had to wait until Tuesday's friendly to earn his first cap.
"It has obviously been a long two years for me so I was delighted to get out there and make my debut," Meyler said.
"My family were down here as well so that was nice. It's a great honour and privilege to play for your country and I'm delighted the lads did well."