Republic of Ireland boss Giovanni Trapattoni in philosophical mood
Ireland boss Giovanni Trapattoni was in philosophical mood ahead of his side's game against the Faroe Islands on Friday.
Last Updated: 07/06/13 10:14pm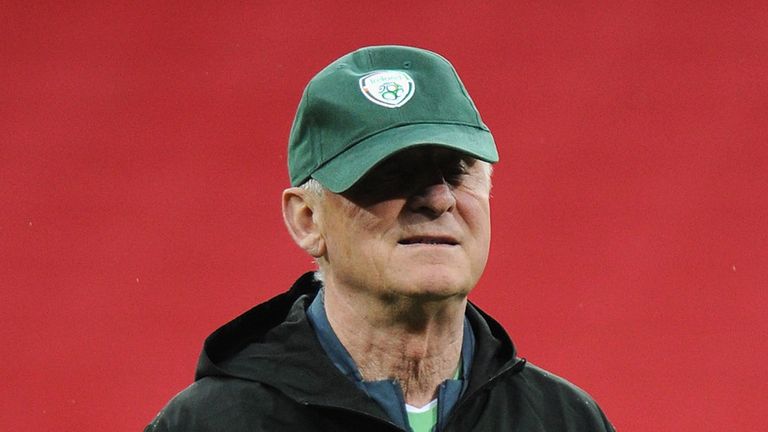 The Italian's position in charge of Ireland was under intense scrutiny the last time the two sides met in Torshavn last October.
The game came on the back of an embarrassing 6-1 drubbing to Germany in Dublin, with Trapattoni's side having also struggled in Euro 2012, to leave his future unclear.
Ireland went on to win the game in the Faroe Islands 4-1, however, and remain in the hunt for a place at the 2014 Brazil World Cup as they look to qualify from Group C.
"When you have a victory, you are a god; when you lose, it's your fault," said Trapattoni.
"It's easier to get rid of one manager than 11 or 13 players. It's the same in club football. I have always believed in this team."
Trapattoni and his players were lauded for making it to the finals of Euro 2012 on the back of a 12-match unbeaten run.
But a disappointing display in Poland and Ukraine saw Ireland finish bottom of a tough group that also contained Croatia, Italy and eventual winners Spain.
"Remember, we went 12 games without losing and without conceding a goal, then after five minutes against Croatia, we didn't put the ball out, the cross came in, there was a header from 11 metres," added Trapattoni.
"That is football."
As for Friday's game, Trapattoni believes their flexible approach could be the key to success, in a match that will see striker Robbie Keane become the highest-capped player in his country's history as he prepares to play his 126th game for Ireland.
"We can change the system. Maybe we can play on the right with (Jon) Walters and (Simon) Cox central with Robbie, because in this game it is important to try everything possible to win," added Trapattoni.
"We can also change with (Aiden) McGeady on the right and Cox or Walters on the left.
"Maybe after 30 minutes if we haven't scored, we can change this situation. It's not a revolution, but we have to do whatever is possible to try to get a result.
"We will have three strikers on the pitch, and McGeady is an offensive player too, so the wide men can come inside and try to score goals.
"We can change it and try to make it difficult for the opposition."