Republic of Ireland players 'raring to go,' says Martin O'Neill after first training session
Martin O'Neill is sure his partnership with Roy Keane will succeed and says his new Republic players are raring to go.
Last Updated: 12/11/13 6:14pm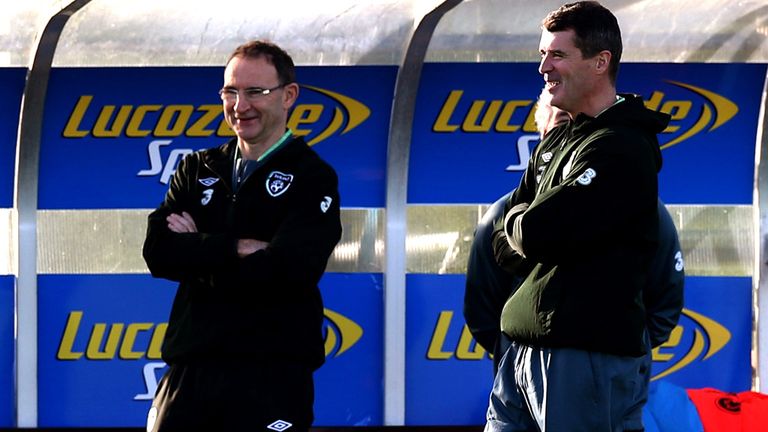 O'Neill and Keane were appointed last week as the Republic's new coaching team, filling the void left by Giovanni Trapattoni's departure in September after a failed World Cup qualifying campaign.
The pair oversaw their first training session in Dublin on Tuesday, ahead of Friday's friendly with Latvia at the Aviva Stadium, and O'Neill gave a positive report to the media after the workout.
"The players are raring to go; all eyes on Latvia," O'Neill, whose side will also tackle Poland on Tuesday, said.
"There's a bit of disappointment with the way in which the (World Cup) qualifiers ended. So they are looking forward.
"We did exactly what we intended to do (this morning). Roy wanted to work with the players - so did I - and we had a little formula worked out.
"After these two games it's remarkable that the next match we have is not until March. Then I will have time to plan properly for the new year."
O'Neill admitted he was surprised no club had taken the chance to hand Keane, who has been out of the game since losing his job at Ipswich in January 2011, a return to management.
"I am (surprised that Keane was available)," O'Neill added. "I know that he feels things didn't go very well at Ipswich for him.
"I think sometimes it's forgotten as well that in his first season, he actually got Sunderland promoted and did very well. Some of those things get lost in time and people want to forget that.
"But I think I was surprised that he hadn't had another opportunity, that somebody wouldn't have taken a chance with him.
"But who knows what might happen here? He's here, he is focused on it. He wants to do it and I think you will find tomorrow that he is especially ready for it."
Keane will meet the media on Wednesday afternoon for the first time since his appointment. Given that much talk since his mooted return to the Irish set-up has centred around his 2002 bust-up with then boss Mick McCarthy, he is sure to face a packed press room.
Watch Roy Keane's live news conference on Sky Sports News on Wednesday from 2.30pm.