Tottenham keeper Hugo Lloris to feature for France against Ukraine
Hugo Lloris is set to play for France on Friday after being rested by Tottenham following his head injury.
Last Updated: 11/11/13 5:32pm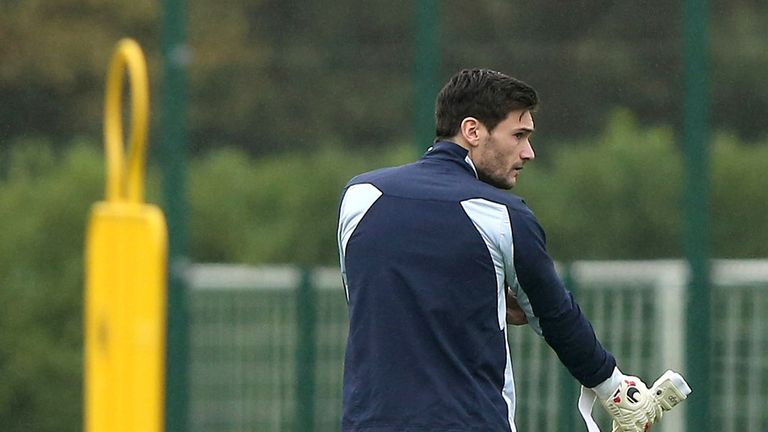 Lloris missed a midweek Europa League win over Sheriff after being knocked unconscious against Everton and was kept out of the squad to face Newcastle on Sunday.
Manager Andre Villas-Boas's decision to let him play on after a collision with Romelu Lukaku had prompted widespread condemnation from medical and football bodies alike.
Villas-Boas claimed he left out Lloris against the Magpies on medical advice, giving further credence to those who claimed he and Spurs had acted irresponsibly at Goodison Park.
But France coach Didier Deschamps allayed fears about the goalkeeper's health and said he would take part in full training on Tuesday in preparation for the two-legged tie.
"He's fine, he's very well. He did specific training - Wednesday, Thursday and Friday - with Tottenham," Deschamps told reporters on Monday.
"(On Tuesday) he'll take part in training as normal. There are no worries with Hugo."
Deschamps added that Lloris did not need any further medical tests when he joined up with the France camp.
"I won't go into details," Deschamps added. "But they (Tottenham) did what they thought was necessary in terms of what happened last week."
Speaking after Spurs' defeat by Newcastle, Villas-Boas revealed that Lloris failed to satisfactorily come through Immediate Post-Concussion Assessment and Cognitive Testing (ImPACT) - a computerised concussion evaluation system.
"The medical department felt that it was a bit too soon," the Portuguese said.
"Probably had the game been on Monday, he would have played. I expect he will play for France.
"For them, it was a bit too soon although clinically and medically all the signs were that the player was ready to play.
"They did a test that they do, that they value a lot, called the ImPACT test, so I had to stick to what they said.
"They decided the player wasn't good enough. That test doesn't serve as an evaluation tool for an assessment, but they thought so and we've gone on from there because we respect them a lot."
Despite Lloris being unavailable, Villas-Boas said he stood by his previous stance and rejected the notion that his absence against Newcastle indicated he had been wrong to leave him on against Everton.
"No, not in my opinion, sorry," he said. "Nothing has come to light, the player is absolutely fine.
"The tests that they have, you don't know because they have made different tests.
"I think, if obviously the club agree, it would be welcome for the medical department to speak up their voice about the situation.
"The only thing that I can tell you and the only comment that I am going to make is that the medical department advised not to use the player. We followed rules and that's it."