League Insider
The Football League Insider looks at the first relegated clubs this season, Swindon and Preston.
By Graeme Bailey - Follow me on Twitter @graemebailey
Last Updated: 26/04/11 11:48am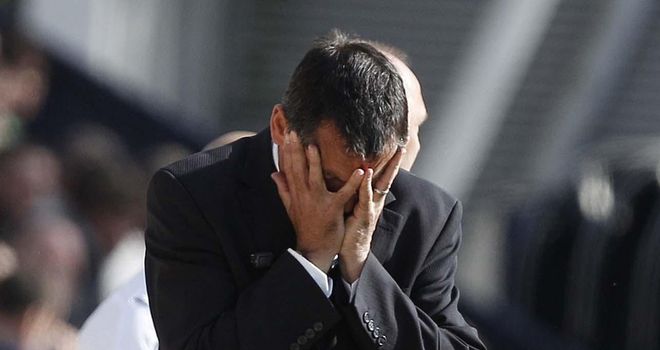 Whilst promotion is being celebrated across the country, the first relegations in England were confirmed with both Swindon Town and Preston North End seeing their faint survival hopes finally extinguished.
The Football League Insider looks at the demise of both clubs and what, if anything, they have to look forward to next season.
So down to League Two go Swindon after they suffered defeat to Sheffield Wednesday as manager Paul Hart failed to galvanise another 'Great Escape'.
And ironically it came on the ground where Hart masterminded Crystal Palace's survival less than 12 months earlier and sent Wednesday down.
But Swindon are now back in the fourth tier of English football for the first time since 2006 - and at that time they were the first ever former Premier League side to go through the divisions.
That relegation hurt, and the pain is just as bad now - especially when you consider how much the club have dropped in the year. At this time last season, Swindon were chasing promotion to the Championship.
Indeed they made the League One play-off final and had good chances to beat Millwall before losing at Wembley. But now less than a year later, their dreams of playing at the top of English football again are in tatters.
Back in 2006 they bounced back at the first time of asking and hopes will still be high in Wiltshire that they can do that.
North End drop
Likewise despite their drop to League One - Preston will also be looking for promotion in 2012 - but they will have to get used to life outside the Championship, where they have been playing since 2001.
And during most of the last decade, relegation has never been on the minds of the Lilywhites' faithful.
During their stay in the Championship, Preston have been promotion contenders on more than one occasion.
In 2001 under David Moyes they lost out to Bolton in the final. In 2005 they again were one match away as they faced West Ham at the Millennium Stadium, but defeat again followed.
They were again in the mix the following year but defeat against Leeds was the result.
Preston, though, have now suffered their first relegation since 1993. Their main aim now will surely be to keep Phil Brown as manager as he battled valiantly to keep them up after taking charge in January.
So whilst the promotion parties begin, it does not do any harm to any football fan to think about those clubs at the other end of the scale, because as both Swindon and Preston have proved, relegation is always just a danger lurking around the corner.