Sky Sports Scout - Simon Moore
Sky Sports Scout is where we scour the globe looking for the best talent. Next up is Simon Moore.
By Sky Sports Scout - Tweet me: @skysportscout
Last Updated: 21/05/14 11:35am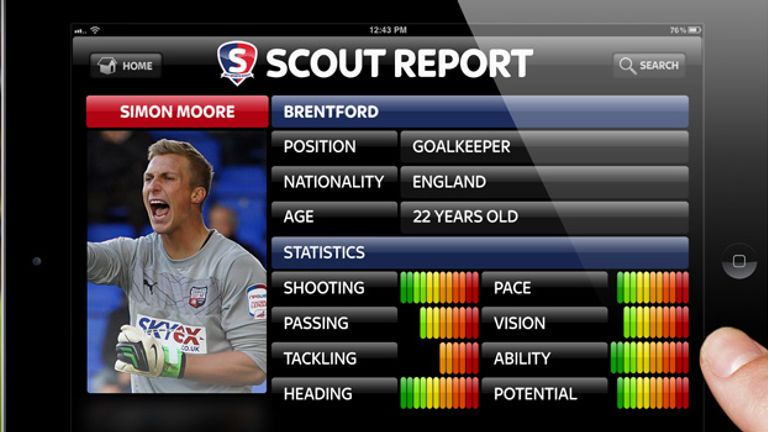 Sky Sports Scout is our exciting feature where we scour the globe looking out for the best talent and bring you a report on what we find.
Our Scout will report back and you can comment on what you think of our appraisal.
Also, in association with Football Manager, we give all readers the chance to win a copy of the latest game by nominating a player.
You can only nominate a player by emailing here, including the word 'Scout' in your subject line and please check to make sure we have not already covered the player.
Should your player get reviewed by our scout, and you were first to send in his name, then you will win a copy of Football Manager 2013.
You can also now interact with the scout via his all new Twitter feed! You can get in touch with him and interact here or just search for @skysportsscout!
Latest under our scout's gaze is Brentford's Simon Moore.
The scout reports...
We are on the trail of Brentford's outstanding young goalkeeper Simon Moore, who is being tipped for the top.
It has been some time since we have done a goalkeeper, but it's fair to say we have picked out a gem in the shape of 22-year-old Moore.
Isle of Wight-born Moore began his career with Southampton's youth side but, having failed to make it, he returned home and began playing for his local side Brading Town.
He then moved onto Farnborough before in the summer of 2009 linking up with Brentford on trial. He did enough to persuade them to hand him his first professional contract.
He had to wait until May 2010 to make his debut and later that year was sent to Basingstoke Town on loan. It was not until early January 2012 that he really got his chance and he has never looked back.
Earning rave reviews, Moore was recently handed a new long term deal, committing his future to the club to 2016 as a number of clubs begin to take an interest.
Moore is a tall, but extremely agile figure who is so quick to cover the ground and get down to shots. He has excellent presence knowing which areas it is best to parry any shots away to.
But his shot-stopping is probably his main ability - his reach is huge and often pulls off some sublime stops.
The scout says...
Is a top young keeper, and it surely won't be long before a big club comes calling. Having seen current England number one Joe Hart emerge from lower league hopes will be high Brentford could have a future international on their hands.
Moore has shone in the last 12 months for Brentford, and his progress will only continue whilst he is getting first-team football.
The Scout rating...
Handling: 7 out of 10
Kicking: 7 out of 10
Agility: 8 out of 10
Judgement: 8 out of 10
Positioning: 7 out of 10
Shot-stopping: 8 out of 10
Current ability: 7 out of 10
Potential ability : 10 out of 10
OVERALL SCOUT RATING: 62/80
Your opinion...
You have read our opinion of Simon Moore - now we want your views. Have you seen Moore in action? Do you agree with our assessment? Do you think he will make it?
Get in touch, either using the form below, email or the scout's Twitter feed - @skysportsscout
And if you have spotted anyone you think we should feature then please get in touch using the same form. We will look to send out the Scout to follow up your leads.