Craig Mackail-Smith, Kevin Davies and Guy Branston on sledging in football
What's the worst thing Kevin Davies, Guy Branston and Craig Mackail-Smith have been called on the pitch?
Last Updated: 12/12/13 12:59pm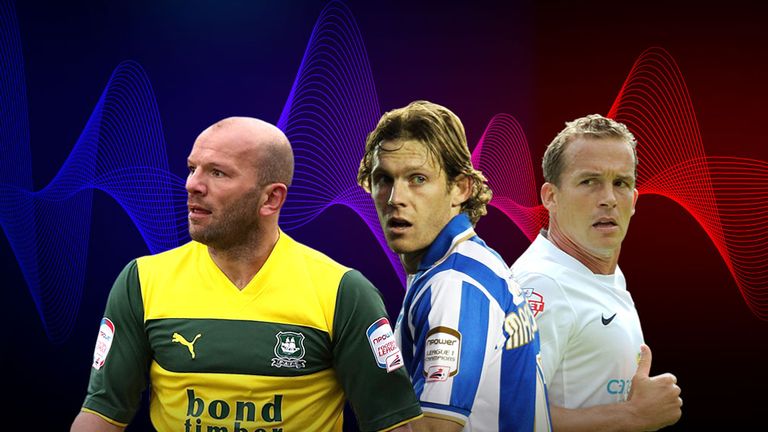 As well as a weekly blog from Crystal Palace striker Kevin Phillips, we will also be speaking to some seasoned campaigners in the Football League.
Brighton striker Craig Mackail-Smith, Preston frontman Kevin Davies and Plymouth Argyle defender Guy Branston - who all appear on Sky Sports News Radio's Football League Hour - will be chatting to us about all manner of footballing issues.
Down Under, England's cricketers face a tough challenge in Perth as they search for a much-needed win in the third test of the Ashes.
Throughout the series so far - which Australia lead 2-0 - the hosts have been accused of going too far with their attempts to unsettle Alastair Cook's side with verbal abuse on the field.
Sledging, as it's known, is common in cricket but is it as prevalent in football? This week we asked our Football League Bloggers whether it is something that happens in the Beautiful Game - and what's the worst thing they've been called on the pitch...
CRAIG MACKAIL-SMITH
I enjoy cricket, my dad's a massive cricket lover and he always wanted me to be a cricketer, which didn't quite work out. I enjoy going to watch it, I haven't stayed up late to watch this Ashes series because I need my sleep as part of my injury rehab, but I've been following the results.
I think sledging is just part and parcel of it. As long as there is nothing said that crosses the line, or is too out of order, you're just trying to psyche the opposition out.
In football when you're taking a penalty the keeper will often come up to you and say 'I know where you're going to put it, I've watched your penalties' and the defender will say 'you're going to miss it' and 'don't bottle it'. They're just trying to get in your head, trying to put you under a bit of pressure and try and make you second guess yourself - and sometimes it works.
It can be a game plan because they understand that some players have a short fuse and if you can wind them up and get them sent off then it gives your team an advantage. I think most players do it, if things are said at the right time it can work and if you're given a bit of stick you just have to accept it back. You have to enjoy it.
With managers it's often them trying to get that little advantage and get in to the other manager's head. They might think you're doing something different and you're going to change the team and you only find out on the Saturday that it's completely different from what you thought. Sometimes it has a good affect and works well but sometimes it doesn't and teams use it as ammunition to play better.
KEVIN DAVIES
I've only ever been to two cricket matches live but just like most other sports I like to watch the big occasions such as the Ashes. I tend to catch up on the highlights, though - I'm not one to sit through a whole day of cricket.
I can't say I've come across too much sledging in football these days. I don't mind a bit of the banter with things like 'you're not very good' or 'you're overweight' but I've never really had anything too personal about family or anything.
I think if it's done in the right manner and is not too personal then it's just a psychological advantage and it does work. In Australia the England team seem to be a little intimidated by it and you can see the Aussies getting around all the new batsman who are coming in to try and make them nervous. I think it's worked in Australia's favour.
When I go into management I might use a bit of mind games but you do have to be careful. Players and managers will often put press cuttings about you or the team up in dressing rooms and it can psyche you up and when you go out there you try a bit harder.
I think Sir Alex Ferguson was the master of it. He did it a couple of times when Bolton played Manchester United at Old Trafford and he'd write things in the press like 'I hope the referee protects my players from Kevin Davies'. Then, when you've read that on the Friday or the Saturday morning before the game, you think he's obviously influenced the referee and now I might have to be a little bit careful - it takes a bit out of your game, so I guess it worked.
I felt that if I went out there and made a tackle then the referee might do something because he has those little feeders in his head. I remember seeing a four-page spread once and thinking 'oh God, everyone is going to be watching me, every miss-timed tackle is going to be blown up' and I'm sure Sir Alex did that many times over his career.
GUY BRANSTON
I'd never heard of sledging until the other day. Someone asked me about it and I said 'sledging? That's when the snow comes out for me.' Honestly I didn't know what they were talking about. When they said it was the sledging in Australia I said: 'No, I've been to Australia there's no snow there'. This went on for ages.
It does happen in football and it's a lot nastier than the kind of stuff the Aussies were saying like 'ohhh, we'll break your arm'. I have been catching up on cricket and to be honest, the sledging has been the most exciting bit for me. Then there's Mitchell Johnson, who looks like Eric Bana in Chopper when he's bowling with that handlebar moustache.
The sledging side of things is just something that happens in sport. You're trying to make a psychological impact on the other player's game and it's something that has always been done in football. I've done it, they've done it to me, managers do it in the press - it's all sledging and all getting one over on your opponent before you go out to play.
I've had stuff said about my missus on Facebook, I've said stuff about their missus on Facebook, on Twitter, comments I've made, pictures I've shown - you can go deep if you need to. Knowing most players in this league and the leagues above and below you kind of get the feel for the player before you've even played against him. You can be in someone's ear saying certain things you know will get under their skin and that's something that's always been apparent in the game.
The game is a lot nicer now. People don't want to upset people anymore, people don't want to get others booked, people don't want to get players sent off, people don't want to tackle people and that's the game that we're forming and the game is changing a lot. It's not like the Roy Keane and Patrick Vieira days, for example.
The game has changed for the better, but people trying to get under my skin has never really worked and I was always a target of abuse because they know I have a short fuse and it was something that I had to watch and grow with and it did take me a long time to handle as a professional footballer.
Don't forget to tune in to the Football League Hour every Thursday night at 7pm on Sky Sports News Radio or download the podcast here