Arsenal: Gunners can be proud after losing to 'best team in Europe' in Champions League
Pundits Francis and Fortune say Robben-won penalty was correct call
Last Updated: 12/03/14 11:49am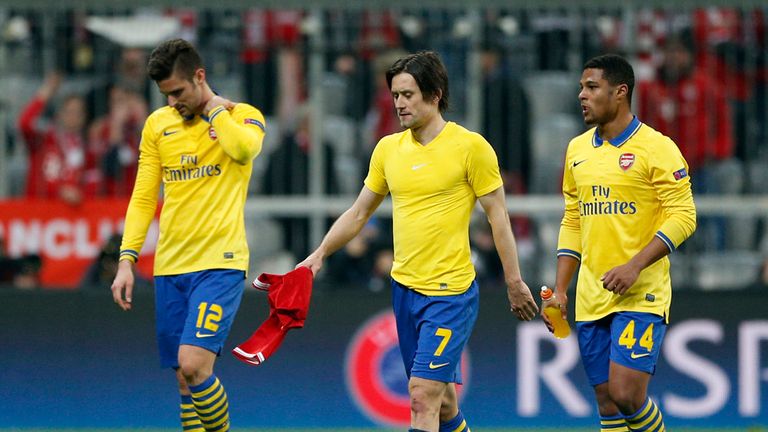 Arsenal's European campaign fizzled out at the Allianz Arena on Tuesday night as they failed to overturn a 2-0 first leg deficit.
Lukas Podolski equalised Bastian Schweinsteiger's first-half strike on the night but Arsene Wenger's team eventually went down 3-1 on aggregate.
And former European Cup winner Francis insisted that Arsenal can be proud of their efforts in Europe.
"They were against the best team in Europe," he told Sky Sports.
"Bayern are the current holders so you have to say that it was unfortunate that Arsenal had to play them at this stage of the competition.
"It is no disgrace going out against Bayern Munich because I think that if there is going to be a team that is going to retain the trophy, they have got as good a chance as anyone.
"Overall it was a gallant performance from Arsenal. They were very spirited."
Fellow pundit Quinton Fortune agreed with Francis and said that the damage had already been done in Arsenal's first-leg defeat at the Emirates.
"The game was already won in London," said the ex-Man United man. "It was always going to be an uphill struggle.
"Bayern are best team in Europe at the moment by far. They have quality all over the pitch."
Distraction
After the game Arsenal boss Arsene Wenger accused Bayern's Arjen Robben of diving after the forward went down under the influence of Laurent Koscielny to win a penalty in injury time.
Lukas Fabianski saved the spot kick from Thomas Muller but Wenger was still incensed by the Dutchman, who also went down in the box earlier in the game.
However, Francis and Fortune insisted that Wenger was wrong in that instance, although he had a case for complaining about Robben's conduct when the forward appealed for a penalty in the box in the 50th minute.
And they also felt that Arsenal had been hugely fortunate in their goal, considering that Lukas Podolski appeared to push Philipp Lahm before blasting a left-foot shot past Manuel Neuer.
"[Wenger's] team were outplayed in the first half, when Bayern had more possession," said Fortune. "And I don't know why Wenger is focusing on the penalty because it was a clear penalty."
Francis added: "Robben is waiting for that. Every player knows what he is about. If there is no contact I don't think that he would go down.
"So rather than Wenger having a word about Robben, I think that he should be having a word with his defender because if his defender stands tall and makes no contact, Robben doesn't win a penalty."
Of Robben's earlier attempt to win a penalty, Francis said: "It was embarrassing. A player of his calibre does not need to do this.
"I was surprised that he did not pick up a yellow card but he got away with that one. It [diving] should be stamped out of the game."