Guiseppe Sannino: Watford Head Coach on England, Sir Alex Ferguson and fried chicken
Watford boss Guiseppe Sannino tells skysports.com about England, Fergie and fried chicken.
Last Updated: 21/03/14 8:54am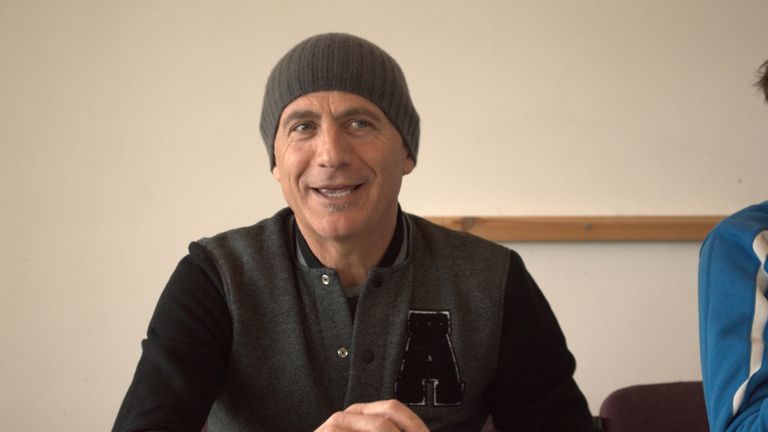 It's something that, when brought up, he laughs off.
"The box is little-er," he says in broken English before turning to Marco Cesarini the interpreter - and Head of Medical at Watford - to finish the rest of his story off.
"I've always found the fourth officials and the referees extraordinary - they cannot stand my ways but I never ever complain.
"I'm always just speaking with my players and they say, 'Sir, Sir, Beppe, Beppe you can't go there' and I say 'I'm speaking with my players not with you'."
Just over three months into his tenure with the Championship side, Sannino has been noticeably tight-lipped with the press and our sit-down interview with the 56-year-old is one of his first since arriving in December 2013.
Sannino must be commended for his efforts to try and speak English, but Marco jokingly implies that the former psychiatric hospital porter is 'shy'.
"My English is little, short phrases but I speak with people day after day better - each day is better. Since I joined the club we've played on a tight schedule, we've played Tuesday-Saturday, Tuesday-Saturday and even though I know that I should dedicate more time to learning English my thoughts are always on the pitch and I'm waiting until the end of the season to fully immerse myself so I don't have to think about a training session or match and have the time to concentrate just on the language."
Inherited
Life off the pitch for the Italian has been filled with new experiences. With his family making regular visits from Italy he's managed to squeeze in trips to all of the major London landmarks, enjoyed people-watching on Regent Street (where he 'swims through the crowds like a fish') and found an Italian restaurant in St Albans that serves 'good red wine and food', where he eats every evening.
On the pitch, by his own admission, results have been mixed. The Hornets' terrific home form means they've only lost once and conceded once since Sannino took over but that form hasn't been replicated on their travels and he admits "they must work harder".
Club owners the Pozzo family piled on the Italian crescendo at Watford last season making use of a system loophole - which has since been closed - to bring in 14 loan players from abroad, many from sister clubs Udinese and Granada.
It worked though; Watford under Gianfranco Zola reached the Championship Play-Off Final, but lost to Crystal Palace in extra time. Things haven't continued in the same vein this season though and after a run of five successive home defeats the former Chelsea striker called a day on his reign.
But what of the team Sannino inherited from his compatriot?
"I think that one of the main factors is that when you join a club during the season you miss pre-season which to me is very important time where you build the team; you can train up in certain areas properly.
"I can praise Gianfranco Zola about the job he did before - because I can see right now there is still some benefit from the job he did. He didn't leave me a squad that was lacking in physical condition - what I mean is that if I'd had time to start from the beginning of the season I could have worked it in a different way - that doesn't mean I would have done it better or worse but I'm now changing his philosophy.
"Watch me," he says, staring straight in the eye.
"Outside of the pitch I'm a polite person, a kind person and you can speak with me normally. On the pitch I'm still polite and kind but I'm angry and my team should reflect my personality."
Tactical
Sannino spent 17 years coaching Italian clubs including Siena, Palermo and Chievo before arriving at Vicarage Road.
He follows in the footsteps of an illustrious list of Italians plying their trade in England; from the Tinkerman Claudio Ranieri, Carlo Ancelotti and Roberto Mancini to former England manager Fabio Capello and the fiery egotist Paolo Di Canio.
But has he noticed the differences? Serie A clubs and the Azzurri have often outwitted English sides tactically on the main stage but Sannino is quick to admit he's been impressed with style he witnessed so far and is full of praise for quick and technical football being played.
"There are two different cultures to take in to consideration," he adds.
"The main difference is the stadiums - almost all of them are new and sold out, the supporters and crowd are polite and no trouble and the myth that on the pitch it's all about getting the ball in to the box or long ball is not true.
"Teams play good football, they move the ball, they think and they know what they have to do on the pitch so I have to compliment English managers because they've shown me good football and they've improved from the football in England 10 years ago.
"The main difference for me is that in Italy we are very, very focussed tactically. In England there is a lot more open play and more enthusiasm and the players and the teams dare more than in Italy.
"The referees stop the game rarely and I think that when you look at the statistics the effective time playing in England is the highest in Europe or the world and this is a type of football that I love and I'm enjoying a lot.
"I think that in Italy we're very keen to watch the little details and I'm aware that when I spend time on the pitch with tactics to try and focus on the details some English players can't spend a long time in my sessions.
"What we do is very much like when you're at school; we repeat the exercise until the exercise is perfect and this is a completely different approach for them. I need to find the right mix of tactical work and the fun at the same time."
Idol
Interestingly, it is the true master of Premier League football that Sannino admires most; Sir Alex Ferguson has long been his coaching idol and he admits disappointment at not having the chance to meet the Scotsman.
"Unfortunately I've never been able to meet him and I haven't been able to speak with him but a few days ago I was watching a programme on Sky where they were showing clips of Manchester United maybe 25 years ago and my memory came back to when Ferguson was young and arrived at Manchester United.
"To think that he spent 27 years at the club, for us and my colleagues that makes him a legend. How can you do 27 years and have success as well? In Italy you get one or two years then you get stopped. That's why he is a legend.
"He was able to recruit young players that, in their career became great players. I feel sorry for David Moyes because he is unfortunate in the position he is in because it's not easy to step in those shoes when you have to replace Sir Alex Ferguson.
"Your results have to pay when you take over such a legend and the supporters will always make comparisons and say 'oh he did this and he hasn't done that.'"
Things look optimistic for Sannino. The Italian is adapting to the Football League at pace and has enjoyed the many 'cultures' we have to offer.
Though fish and chips hasn't been on the menu, Beppe confessed to his perfect post-match meal and loves the sentiment of coaches sharing a drink after a game.
"I like fried chicken in the manager's room after the match," he says.
"Nigel Pearson spoke with me after the game and gave me a bottle of red wine with two glasses for the journey back. I like this habit of being together after a match. In Italy it's not like that.
"Can you rewind so that I can enjoy a glass of red wine with Sir Alex Ferguson?"
Watford are 9/1 to reach the Sky Bet Championship Play-Offs with Football League title sponsor Sky Bet.
If you're a Watford fan, sign up for a Sky Bet account today and the club will benefit.
Go to www.skybet.com/watford and you will also receive a matched bet up to £30.