Football Expert & Columnist
Manchester City can thank Pablo Zabaleta and David Silva for likely title win
'Unstoppable' Yaya Toure's power has also steamrollered teams
Last Updated: 09/05/14 3:28pm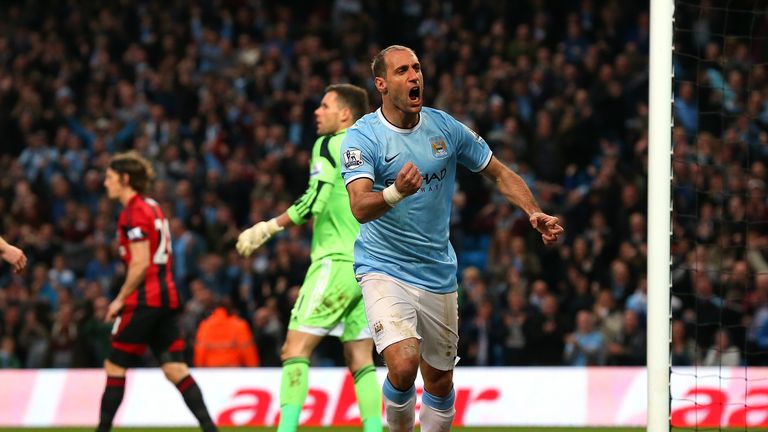 Manchester City may only win what everyone expected them to, considering the money they have spent and the fact they have the best squad in the division, but they have been given big challenges by Liverpool, Chelsea and, for a long period, Arsenal.
City have been playing catch-up for most of the season - they could win the title having spent just 15 days at the top of the table - and I think that shows that they have character in their ranks as well as quality.
They were always under pressure to match or better other teams' results and by and large they did that, while the one game we thought would prove very costly - the 2-2 draw at home to Sunderland - could actually be the key result.
Samir Nasri's 88th-minute equaliser now means City only need a draw against West Ham to lift the title and I can't see them not getting that - despite how harum-scarum things got against QPR two years ago!
I praised Pellegrini after the win over Aston Villa on Wednesday night, but you also have to pinpoint Yaya Toure as one of the main reasons why City look set to win their second title in three seasons.
He is not the sort of character you see talking to his team-mates too much - that is Vincent Kompany's role in the side - but he strikes so much fear into the opposition and is unstoppable when he gets going.
We saw that in stoppage time in midweek when he ran from his own half to put the gloss on the scoreline - and that is no disrespect to Villa, because he has the ability to leave teams like Chelsea and Liverpool for dead, too.
Toure's team-mates must be so inspired by him because you know he is going to produce four or five moments in a game that the opposition will not be able to do anything about.
Sergio Aguero, meanwhile, is on a completely different level to City's other strikers - and that's saying something considering how many crucial goals Edin Dzeko has got this year and how well Alvaro Negredo settled in, particularly earlier on.
I think if he had stayed fit for the whole campaign and not had a couple of periods out injured he would have been up there competing with Luis Suarez for Player of the Year - and helped his side wrap-up the title already.
Aguero is one of the best four or five strikers in world football, but I suppose the slight concern for City is that he does pick up a few knocks.
Fantastic
However, a lot of City's great moments stem from the boots of David Silva.
He is fantastic in the hole but because he is not the sort of player to burst into the box and City perhaps lose a bit of goal threat when he is there, he regularly plays on the flank to great effect.
Silva is a magnificent creator and often plays the balls into not just the front players and midfield runners, but also the full-backs, in particular Pablo Zabaleta.
He is great to watch and must be great to have in your team.
Zabaleta, too, is superb and I think he is appreciated by everybody in the Premier League for what he offers, as a defender, attacker, and character.
I was criticised for being a bit slow getting forward when I played as a full-back, while nowadays you have some great attacking full-backs who perhaps aren't as good defensively, but Zabaleta is the whole package.
He is very similar to an in-his-prime Gary Neville, getting crosses in up one end of the field and dealing with his business at the other, and I think he is the sort of player managers are desperate to unearth.
But while looking at City's key men, you can't overlook Kompany.
He made a mistake at Anfield which led to City losing but his leadership qualities, physicality, intelligence and reading of the game make him one of the best defenders in the Premier League, if not the world.
Kompany's pace means that on the rare occasion he does make a mistake or has someone running at him he can deal with the situation, as he did at Everton on Saturday Night Football when he made a great challenge on Ross Barkley.
Though with City still conceding goals, I think he needs a new centre-back partner next season...