Jeff Stelling salutes Steve Bruce's Hull ahead of FA Cup final clash with Arsenal
Steve Bruce appears on a new loo seat, but Hull's success is no flash in the pan says Jeff Stelling.
Last Updated: 16/05/14 4:43pm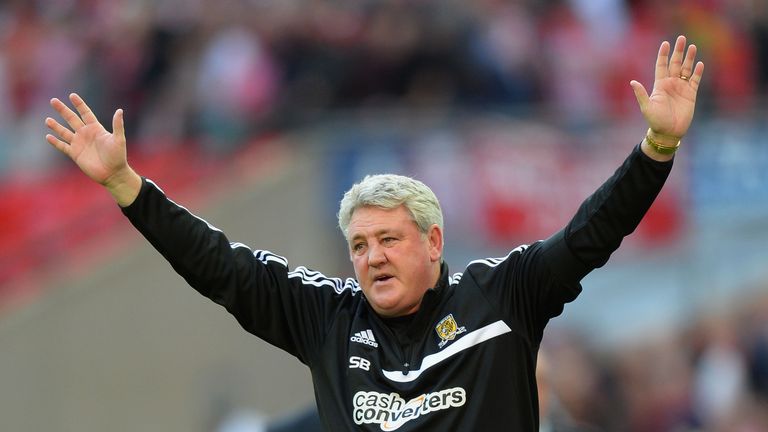 Amazingly, in the 120 people there, none of them thought England would win the World Cup, one person thought they would get to the final and a lot of people thought they wouldn't even get out of the group stages - I put them right about that though, don't you worry!
It was the first time I'd been to the new museum now it's in Manchester, and I must say, it's absolutely fantastic. Any football fan, of any club, would be intrigued by it.
You need to put plenty of time aside because there's so much to see, including their latest arrival, the Michael Jackson statue. The museum curator told me that Mr. Mohamed Al Fayed was convinced its removal from Craven Cottage was the reason Fulham were relegated... I'm not so sure about that.
Flushed with success
Within the urinals at the National Football Museum they have goal posts as targets.
And on the subject of toilets, plumbing company Ideal Standards have released a loo seat to celebrate Hull City reaching the FA Cup final.
What better way to commemorate a win than with a gold and black striped toilet seat that includes a picture of the manager's face on the inside lid!
Speaking of Steve Bruce, what a brilliant season he's had. I'm surprised that when Manchester United were looking for a new manager he wasn't mentioned; if his name had been 'Esteban Bruceo', he may have been in with a bit of a chance.
Honest as the day is long, likeable and down to earth; I think everybody in football is pleased at Bruce's success. Yes, Hull have gone right off the boil recently but any player will tell you, no matter how hard you try, it's impossible not have your eye on an FA Cup final.
Nobody wants to pick up an injury so they don't go in quite as hard and that's what has been responsible for their recent results. Of course, they were sunk by Arsenal at home in the Premier League recently, but I see them giving a much better account of themselves on Saturday.
This game will be curious. You'd have thought Hull would have been the more nervous of the two, but in fact there's so much more pressure on Arsenal. I was at that League Cup final against Birmingham in 2011 and - I'm not saying the Arsenal players did - but the fans rolled up with no question in their mind that they weren't going to win.
Even though it's difficult to see beyond the North London side, it's happened before - remember just last year when Wigan beat Manchester City.
Gunning for it
There is so much riding on this for Arsenal and you just feel that under no circumstances can they afford to lose.
At the start of the season most Arsenal fans would have taken fourth place; there was a lot of doom and gloom, particularly after that first game against Aston Villa.
They've got Champions League football in the bag and for what it's worth, I think they will win this weekend because they've got one key player in Aaron Ramsey fit again. If they don't, people shouldn't view the season as being a disaster by any means.
Arsene Wenger has given his word that he'll stay no matter the result. Sometimes, when he's on the touchline, I wonder why he wants to carry on because he looks so anguished in that Basil Fawlty style; the cameras strained on him looking for every bit of misery.
'Le Professeur' is fantastic for the game, a joy to listen to, his teams play brilliant football and he's been a great influencer for English football.
I love listening to his press conferences; he'll have an opinion on everything because he's educated and articulate - and that's entertaining.
He can stay as long as he wants as far as I'm concerned.
JEFF's GEM OF THE WEEK
This time my performance of the week goes to Samir Nasri's girlfriend Anara Atanes for her Twitter rant over his exclusion from the France World Cup squad - get in there girl, you tell them!
Suddenly France is a team to be feared in the World Cup because they must have a fantastic squad if they can afford to be without Nasri.