Champions League: I'd be amazed if Celtic don't qualify now, says Charlie Nicholas
Sky Sports pundit confident SPFL side will reach the group stages of the competition
Last Updated: 21/08/14 11:39am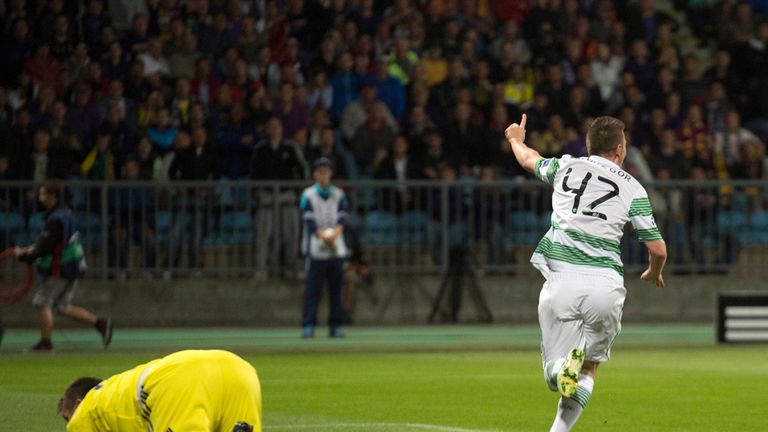 Charlie Nicholas says he would be "amazed" if Celtic didn't reach the Champions League group stages after their 1-1 first leg draw at Maribor.
Celtic opened the scoring in the play-off after just five minutes, when Callum McGregor poked the ball into an empty net after some persistent play from Jo Inge Berget on the left-flank.
But less than 10 minutes later, the Slovenian side levelled the scores through a tidy Damjan Bohar finish. The pair will meet again next Tuesday at Celtic Park and Sky Sports expert Charlie Nicholas said would be surprised if his former club didn't reach the coveted group stages with an away goal to their advantage, but insists it will be a challenge.
He told the Champions League Goals show: "I'd be amazed if Celtic don't go through from this second leg next week – I'm not saying it's a canter, it's a test.
"I know there's a still a danger because Celtic defensively are still vulnerable. We speak about Celtic's deficiencies defensively but so have Maribor. They're fairly static, they're not blessed with great pace either. I'd expect, if Celtic score first next week, they could win two or three nil.
"What he (manager Ronny Deila) got right, and he understood from the previous Warsaw game, was that he didn't have to go and squeeze the game," added Nicholas, who played more than150 times for Celtic.
"He talks about a squeezing game, high energy and high up the pitch – but you don't need to do that, this is a counter-attacking team, he knew that before kick-off, they've watched the videos. So he sat with the holding midfield players."
Return
I'd expect, if Celtic score first next week, they could win two or three nil.
Charlie Nicholas
The Scottish Premiership champions are now one game away from qualification to the group stages. Celtic only find themselves in this position after being reinstated in the competition when Polish side Legia Warsaw, who comprehensively beat Ronny Delia's side 6-1 on aggregate in the previous round, were disqualified for fielding an ineligible player. 
And Nicholas believes the young Norwegian manager, who took over in June this year, deserves praise for the way he approached the game, but will need to be prepared for the home leg.
"Compliments to the manager for that, because you're as well going cautious and getting some sort of a result to go back and get the job done in the second leg. But as before, when you go and chase a game, like when they played at Murrayfield [against Legia Warsaw], mistakes are there, you take too much of a gamble and they're punished.
"They know what they're facing – it's a counter-attacking team. I don't think Maribor are blessed with great pace. They've got good energy and decent passers in midfield but Celtic's own enemy is themselves.
"They need to be patient, take their time. You break them down and get the first goal - though that doesn't change it dramatically - Celtic probably need two goals to be sure of going through, but I think overall  they'll be looking at this and thinking, 'We don't need to squeeze it we can sit in. Are you good enough, have you got enough pace to hurt us?' The answer to that is no."
Fellow Sky Sports pundit Andy Walker is concerned that manager Ronny Deila may not see much of the potential £20m cash windfall that will come Celtic's way if they do qualify next week.
He said: "It was an impressive performance and hopefully they can finish the job. They are growing in stature and they should now qualify but I wonder if Ronny Deila will get any money to spend. You are talking about £15-20m if you make it to the group stages, but I wonder if the manager will get much support from the board.
"There does not appear to be much appetite on spending money on players with a proven pedigree. Every signing they make looks like they have to be young and full of potential. But the trick is to get there, there is still 90 minutes to play."