Football Expert & Columnist
Man City v Barcelona: Graeme Souness says Manuel Pellegrini must pack midfield
Manuel Pellegrini can't play 4-4-2 if Man City are to get past Barcelona, says Graeme Souness.
Last Updated: 18/02/14 9:40am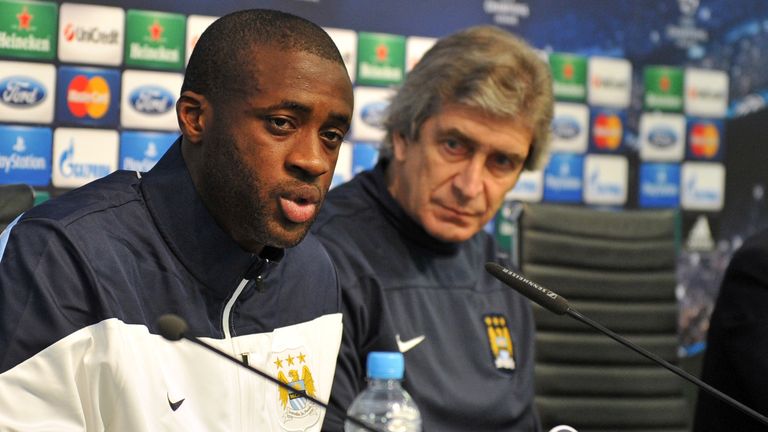 You'll slip up somewhere and even if you have all the quality you need, Lady Luck can go easily against you. I know Bayern Munich managed to win three trophies last year, but that was quite a unique situation.
I have always fancied Man City to win the Premier League and they were my tip at the start of the season. However, they have slipped up in games and didn't show great consistency away from home in the early part of the campaign. I now look at their run-in and it looks like a difficult end to the season for them.
They could go all the way in the FA Cup and if they get past Barcelona in the Champions League, then life is going to get very difficult for them in the Premier League.
Chelsea exposed a weakness in them in their league meeting a fortnight ago. They showed that Manuel Pellegrini cannot go 4-4-2 in the big games because he has too many people who wander in the midfield.
Yaya Toure, who has been the best midfield player in the Premier League this year, is not someone who senses danger all the time. There's also David Silva, who wants to be on the ball and drifts out of position - and that makes them vulnerable.
If you have two wide men who don't hold their positions, then you are at risk against Barcelona because they have two full-backs who are asked to be midfield players for most of the game.
Home and away, Barcelona spend most of the game with the ball, so if you've got Silva popping up on the wing, then you might find Dani Alves raiding down the flank behind him all game - so I really can't see them playing a 4-4-2 against Barcelona, or indeed any of the better teams.
You have to adapt when you play this Barcelona team. When you think of that side, you think of their main strength, which is having most of the ball. The key to nullifying that is loading up your midfield and you can't play just two central midfielders in there against Barcelona.
I imagine Edin Dzeko will probably be sacrificed with Alvaro Negredo playing as the lone striker and if Fernandinho is fit, you would want to play him (although he's not exactly an out-and-out sitting player and gets sucked towards the ball at times). Pellegrini just needs to get as many bodies in midfield as possible.
The other thing is that you must have two wide players who will stay wide and do a job tracking back towards their own goal to deal with the threat of the Barcelona full-backs, who are asked to join in at every moment.
The key to City winning the tie will be the performances of Yaya Toure, because he is capable of damaging anybody. As a former Barcelona player, he will be looking forward to this one and he'll need to have two great games if they are to go through.
The other advantage that City have over Barcelona is at set-pieces. The likes of Negredo, Toure, Vincent Kompany and Joleon Lescott have an obvious threat in the air and whilst they will have to play their stuff throughout the game, that area could be important. You only have to look at Barcelona's trip to Celtic Park last year to see that!
I think this could be an exciting game and I can see Manchester City winning the first leg. However, they will want to keep a clean sheet and whether they can do that, I'm not so sure....