Stop the Hart attack
Nigel Martyn insists Joe Hart was not at fault for Samir Nasri's goal in Monday's 1-1 draw with France.
Last Updated: 13/06/12 1:04pm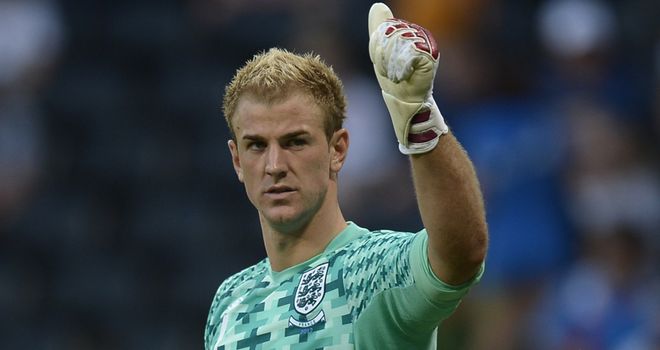 Nigel Martyn insists Joe Hart was not at fault for Samir Nasri's goal in Monday's 1-1 draw with France.
The England goalkeeper was beaten by his Manchester City team-mate from just outside the area during the Donetsk draw and in interviews after the game he insisted it was simply a "good goal" from the Frenchman.
Hart's positioning was called into question by some commentators but Martyn, who played in goal for England at Euro 2000, insists he did the right thing in trying to get a sight of Nasri's shot through a crowded penalty area.
"It annoys me a little bit when everyone who doesn't play in goal says he was beaten at his near post again," he told Sky Sports News.
"The fact of the matter is he couldn't see the ball being struck, so if he stayed where he was then the ball would go in and he wouldn't even get a dive away because it would be past him before he had time.
"He had to move to his left to get a view of his shot being struck and that movement to the left is what caused the ball to go in there.
"He still got all the way across and got a finger to it. By moving to the left he could definitely cover more of his goal than he would have been able to if he'd stayed behind the people."
Relaxed
On Tuesday The FA released a video of Hart playing head tennis with Alex Oxlade-Chamberlain at the team's hotel and Martyn feels there is a positive vibe in the squad.
Injuries to the likes Gareth Barry and Frank Lampard and the suspension of Wayne Rooney has seen expectations lowered and Martyn feels Roy Hodgson - who was only employed six weeks before the start of the tournament - has approached the task in the right way.
"The new manager has come in and I think he's been excellent to be honest," he said.
"He answered the questions he's needed to answer, he's put himself out there and he is a good footballing guy. He's got his own principles and he's doing it his way, which is the way I think any England manager should do it.
"It is more relaxed, certainly. In past competitions we've probably had better squads, so we all thought they were going to do better.
"This squad has had withdrawals and suspensions and things like this, so we're all cutting them a bit more slack.
"Hopefully they respond to that."