Brits abroad - Luther Blissett
Many would regard swapping Vicarage Road for the San Siro as a footballing dream. For former England international striker Luther Blissett, it didn't work out that way. Adam Bate caught up with him to find out why.
Last Updated: 26/02/14 10:43am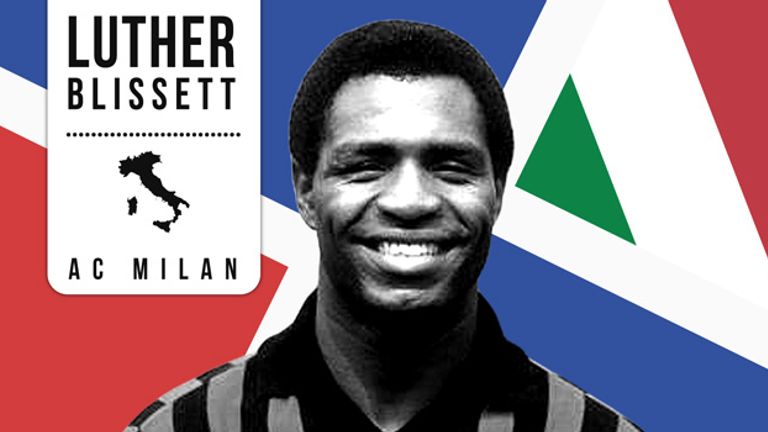 There are so many myths surrounding Luther Blissett and his season at AC Milan. Among the more ludicrous is the claim that the Italian giants had believed they were signing John Barnes instead. What people forget is that Blissett was at the top of his game at the time. The powerful striker had topped the goalscoring charts as Watford finished second in the league and he also netted a hat-trick on England debut.
But the subsequent move to Milan in 1983 was a difficult one as Blissett endured just one season at the San Siro - scoring five Serie A goals - before returning to Vicarage Road. Adam Bate caught up with the Hornets legend to get the real story behind his time with the Rossoneri - as well as the views of the man himself on the anarchic group that have taken his name.
How did the move to Milan come about?
Well, they made contact with Watford at the end of the season after we had finished second. They wanted to speak to me about a move to Milan. The first I heard of it was after an end-of-season tournament we played in Malaysia. Graham Taylor told me they'd had an enquiry.
Was it an easy decision to move?
No it wasn't. They initially bid £500,000 and Graham told them they'd have to pay £1million to speak to me, thinking that they'd refuse and I'd be staying at Watford. But they came back and offered the £1m. He then felt obliged to tell me and, after they'd upped the bid, I felt the least I could do was talk to them.
It was a very difficult decision. Regardless of the stature of the club and everything else, Watford was somewhere I was very happy at. We'd just had our best season and it felt like I was leaving at a time when things were just taking off there.
The gulf between the sides seems bigger now but at the time Watford were hugely successful and Milan were perhaps in a transition period?
Absolutely, yeah. If you look at the exploits that season and then how Watford did in the FA Cup, it was amazing. Absolutely amazing. That was a good team that Watford team at the time.
You'd scored a hat-trick for England, Watford finished second and you'd been the first division top scorer... But it still must have been daunting walking into that dressing room?
Things like that never bothered me because, any club you go to for the first time, things like that are always going to be difficult. The problem for me was not being able to speak the language and not really knowing people at all. Going to a new club is a normal thing. But the added challenge was the language barrier and not really knowing what they were expecting from me. They were the most daunting things for me.
I just tried to look at things really simply. I'm going out there to play football and, while we may all play it slightly differently, it's the same game whatever country you might be in.
But a lot of players who move from England to Italy talk about the change in style being an issue. Was that even more of a challenge moving from a direct team like Watford?
You know what, it wasn't even a case of it being more so because of Watford. You just have look at football back then and how the Italians liked to play. I mean, you watch the game now and they play quite attractive, attacking football - the national team and the club teams play like that. At the time, the game was very, very defensive.
You have to remember, they played the sweeper system. It really was a case of saying we've started out with a draw and we're keeping a draw - similar to what teams do for the first couple of games of a World Cup group. They just never gave anything away. It was very tight and they never over-extended themselves or left themselves open for anyone to exploit anything.
That's how they played every week in the league. And the fact that the Milan team was nowhere near as good as the likes of Fiorentina or Juventus at the time made it very difficult to create something because, in my opinion, we were quite negative about the way we approached the game.
Milan finished sixth that year in a close league. What are your memories of that season?
Yeah, I still have some great memories. When I went there, the first five or so games were friendlies and Coppa Italia ties and I scored nine goals in those five games. So I was really looking forward to the season having played in those games. I'm thinking, wow, this is a good move. I've got some good players around me and they're looking to play me in whenever I make my runs.
But come the beginning of the league season when we played away at Ascoli in the first game, the change was just chalk and cheese. It was literally just playing keep-ball for the whole match and it was very difficult. You'd lay the ball off and spin to get behind people and the ball would end up back with the sweeper. They'd just be keeping the ball across the back. That's how it was.
There were a few games where we had a little more attacking ambition about what we did and those were the games we'd do better in. But when you're just waiting for the ball and hoping for an opportunity that never comes, it's very difficult. Especially when you're in a team that doesn't really create.
I was the one doing most of the creating - but I was creating chances for other people! Nobody else would do that, they just wanted to pass the ball around. I'd come from a team that attacked whoever they were playing in order to try and win the game. That's how I always used to play the game.
Just a more cautious approach?
Cautious! It goes beyond cautious!
You still had some good players though...
Franco Baresi was the genuine article. He was just brilliant - out-of-this-world in fact. A fantastic player. Filippo Galli was also a very good player and so was Mauro Tassotti. So we had two or three good players but that was it. This was not the sort of team that they had a few years later with all the Dutch players that was absolutely amazing. That would have been the time to be involved when you had attack-minded players who wanted to go out and win the game. I think that was when things really took off for Milan.
How was the training? Was that different to what you were used to as well?
The training and preparation was fantastic. I loved all that. I managed to learn a lot from it and to this day, when I play occasionally, I still retain a lot of those traits that I picked up there. So I've got a lot to still be thankful for from my time in Italy with the way we prepared for games. But, of course, I went there to play football and that was the most disappointing thing about it. The game was not played in the manner I'd hoped. They'd seen the way I'd played for Watford and the way we'd attacked people but then we never did that.
Do you think you came back a different player in some ways?
You probably come back a better player. Experience does improve you in many ways as you have to add things to your game. The fact that it was all to feet improves your control. It's bound to as you're doing it in training and you're doing it in the games as well. It also made me really focus on getting that one little yard you need to get a shot off on goal. So certain parts of your game do improve.
And you gained notoriety of sorts out in Italy when an anarchist group took 'Luther Blissett' as a Nom de Plume and began anarchic activities in your name. Is that a bit of fun or is it something that you're sick of following you around?
I know the story and I just regard it as a bit of fun. These guys used my name. They were anarchists and all sorts of things, apparently. They do say that any publicity is good publicity! It didn't harm me in any way. I think people were aware that it wasn't anything directly to do with me. At the end of the day, no harm done!
So despite the disappointments, no regrets about making the move then?
I've got no regrets whatsoever about going to Italy. None. I went with as much information as I was able to get. As we all know, sometimes things are not what you expect or what you'd like them to be. In this case, the team was nowhere near as good as the name Milan would make you believe. And the way we played the game was not ideal for getting the best out of me and what I was good at.
I would say to any player that if you get the chance to play abroad in one of the top leagues then you've got to go. For your football education it's great and whatever happens you will learn from it and come back a better person and a stronger person. You learn from it whether you do well or not. You can never guarantee anything in life but give it a go and do your best. So I'd say definitely give it a go.
Luther Blissett was speaking to Sky Sports in his role as an ambassador for the Men United campaign - helping to win the fight against prostate cancer.