Sky sources: Tony Pulis leaves Stoke after seven years as manager
Tony Pulis has left Stoke City after seven years in charge, Sky sources understand.
Last Updated: 21/05/13 9:46pm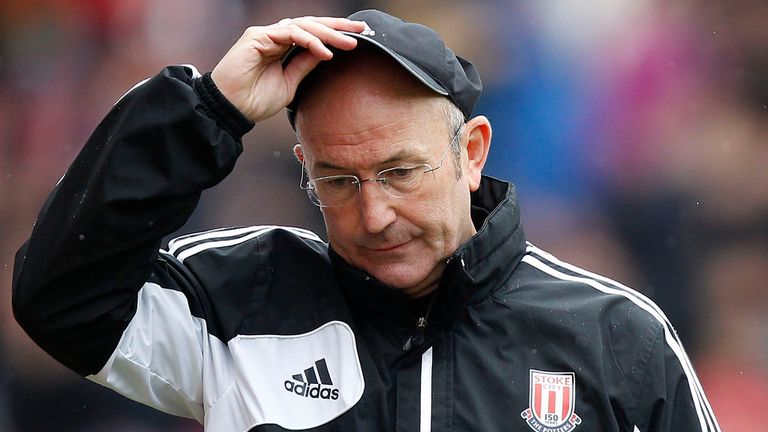 The Welshman guided Stoke to the Premier League during his second spell at the helm and later led them to an FA Cup final and into Europe.
But the Potters were dragged into relegation trouble last season and Pulis drew criticism from some sections of the Britannia Stadium support over his side's style of play.
Chairman Peter Coates had refused to discuss the 55-year-old's future while the club struggled in 2013 but it is understood a decision to part ways was made during an end-of-season debrief on Tuesday.
Stoke winger Matt Etherington has warned fans to be careful what they wish for with confirmation of Pulis' departure imminent.
"I've spoken to a few of the other boys and they're shocked as well, it's hit us," he told talkSPORT.
"Fans were grumbling saying they wanted him out or wanted a change but it looks like they have got their wish.
"You have to be careful what you wish for in football sometimes. You look at Charlton under Alan Curbishley and look where they are now.
"Hopefully it won't go that way for us, hopefully we'll get someone in who will push us on and make us into a top-10 team.
"If you look at where Stoke were when he first came in - mid-table in the Championship - you can't argue he's done a fantastic job."
Sky Bet swiftly installed former Chelsea boss Roberto Di Matteo as the favourite to succeed him, with ex-QPR manager Mark Hughes also a frontrunner.
Pulis first took the Potters job in 2002 and returned in 2006 after a stint at Plymouth Argyle, overseeing promotion to the top flight two years later.
Behind Arsene Wenger, he was the second-longest serving manager in the country following Sir Alex Ferguson's retirement and David Moyes's subsequent move to Old Trafford from Everton.
Solid
Within two years of taking over for his second spell in charge he won promotion to the Premier League, where they have never finished below 14th.
He also led them to their first FA Cup final against Manchester City in 2011, which they lost 1-0, and consequently into the Europa League.
However, a poor run in the second half of this season - during which the Potters won just three of their last 19 league matches and briefly raised relegation fears - saw them finish with their lowest Premier League points tally.
Also Pulis' style of football has often been criticised for being over-physical and relying too heavily on the 'long ball'.
But Etherington said there was reason to his methods and that the manager had tried to change his style as best he could.
"We have definitely got better players at the club than we had when I joined in the first season in the Premier League," he added.
"The manager has a way he wants to play. First and foremost he wants us to be defensively very sound.
"You have to be solid or there is a big chance you will get relegated. That was his main priority, which was fair enough.
"There were times when we weren't pretty to watch but he had us well-drilled and that shouldn't be taken away from the job the manager has done.
"The gaffer said in pre-season he wanted the way we played to evolve and we started off relatively well.
"When it went bad and we weren't picking up results we maybe went back to the old ways.
"You can say it worked because it kept us up but we went back to basics to grind out results.
"The way we finished this season was poor, we all know that and the fans weren't happy and rightly so.
"We had the quality in the squad to finish higher this year. The players need to look at ourselves because we didn't perform.
"It was a bad season this year in terms of where we finished and where we should have finished.
"But if you look at where we finished in the last few seasons you can't really argue."