All change for City?
Carlos Tevez's exit from Manchester City may have been inevitable, but it leaves Manuel Pellegrini with a dilemma. Will he buy a striker, or instead effect a change of approach? Daniel Storey gives his take on how things are shaping up in the blue side of Manchester
By Daniel Storey
Last Updated: 02/07/13 6:56am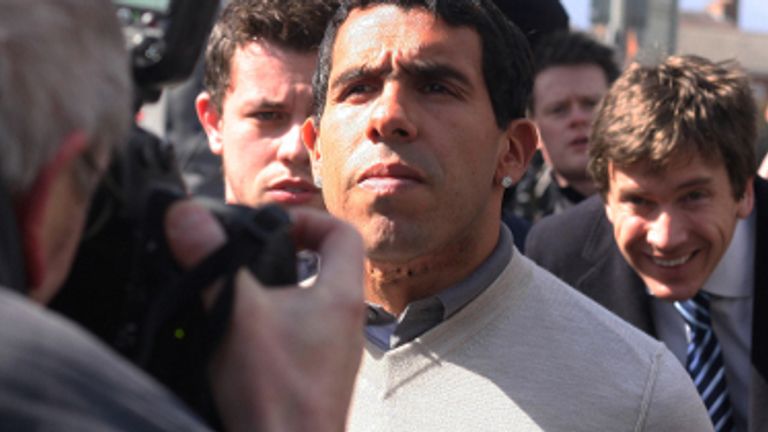 And so Carlos Tevez's tenure in England draws to a close. Seven years, three controversial transfers, 114 goals, three Premier League winner's medals and one extended golf break later, Carlos has gained his wish to be nearer his family - Turin is 69.6 miles closer to Buenos Aires than Manchester is.
The exact fee for Tevez's services is unclear but probably sits somewhere around the £10million mark. After the initial pang of 'bargain', such a figure seems reasonable for a player with only 12 months remaining on his current deal. More pertinently, the Argentinean clearly did not form part of Manuel Pellegrini's immediate plans.
It is easy to see the Chilean's point of view. With Tevez seemingly determined to leave Eastlands at the end of his contract in any case, Pellegrini has a duty to consider events beyond the short term, beyond the forthcoming season alone. Manchester City's new manager has designs on remaining in his position for at least three years, so there is little to be gained from forging detailed plans involving a forward that has no medium-term future at the club.
However, whilst the sentiment itself is logical, Tevez's departure does leave Pellegrini with something of a dilemma. The striker's move to Juventus follows Mario Balotelli's departure to AC Milan in January, and with Edin Dzeko also seemingly considered available for transfer (although that could now change), Sergio Aguero would remain as City's only senior striker.
Such a thought is initially alarming. The club's two main title rivals next season both currently have four strikers of sufficient quality to operate as one cohesive (and often rotating) unit, but an injury to Aguero (the striker suffered two knee injuries and a knacked hamstring last season) would leave Dzeko and not a lot else. That isn't a title-winning collection, I think we can agree.
Furthermore, a lack of striking prowess was the principle reason for the club's failure to mount a significant defence of their Premier League title. Last season, City conceded just five more goals than in 2011/12, but scored 27 fewer and were out-scored by Liverpool. Take away the goals of Tevez and Dzeko, and only QPR and Stoke have fewer, and Aguero's regression from 23 goals to 12 is concerning.
It would be churlish to point out that Tevez just provided goals, too. No City player provided more assists than the Argentine, but it is his work rate that will have left the most prominent impression at Eastlands, and his versatility also proved increasingly useful to Roberto Mancini. Whilst both Aguero and Dzeko operated as the focal point of attack, Tevez was able to be utilised behind the Bosnian, or as part of a two-man strike force with his international team mate. His propensity to drift deep and drop back defensively when required is renowned. His commitment could at times be questioned, but his tenacity on the field cannot.
Pellegrini, therefore, has a significant hole to fill. Edinson Cavani is certainly one possibility, but Napoli owner Aurelio de Laurentiis last week confirmed that City were not prepared to meet the Uruguayan's release fee: "Manchester City have not the money to pay for Cavani, they say, 'We don't pay that'."
Furthermore, Cavani is a striker that requires a team to be built around him in order for goals to be guaranteed, as at Napoli. Internationally, his record of 14 goals in 52 does not scream out €63million worth of value. Gonzalo Higuain or Roberto Soldado are alternative options, but could potentially be seen a stop-gaps rather than stellar names. Falcao would have been perfect, but that is the perversion of Monaco's newly found funds - City are no longer the biggest financial fish in the pond.
Instead, could this in fact signal a tactical shift in City's approach? Only Arsenal scored more goals on the counter-attack in the Premier League last season, but during his unveiling, Pellegrini rejected such a strategy. "We are not going to be a team that scores a goal and goes back waiting for a counter-attack," the Chilean insisted.
Given that his Malaga side failed to score a single counter-attacking goal in La Liga last season, the only side not to do so, and only once played two up front, it is conceivable that City may use Aguero or Dzeko as a lone striker, with a fluid attacking midfield of Jesus Navas, Yaya Toure, Fernandinho, David Silva and Samir Nasri/James Milner supporting the Argentine. Evidence for this can be found in City's ultimately doomed pursuit of Isco, another attacking midfielder most comfortable when providing support for a striker. It would not be a surprise to see City linked with the likes of Angel Di Maria, Henrikh Mkhitaryan or Stephan El Sharaawy as oppose to archetypal strikers.
Whatever the answer, it would seem that Pellegrini has been handed the first predicament of his Manchester City reign. Carlos Tevez's tumultuous time in Manchester may have ended, but a headache has been left in his wake.