Arsene Wenger insists he does not have to justify Arsenal's transfer business
Arsenal boss Arsene Wenger insists he does not have to justify his club's transfer business to anyone.
Last Updated: 21/08/13 10:10pm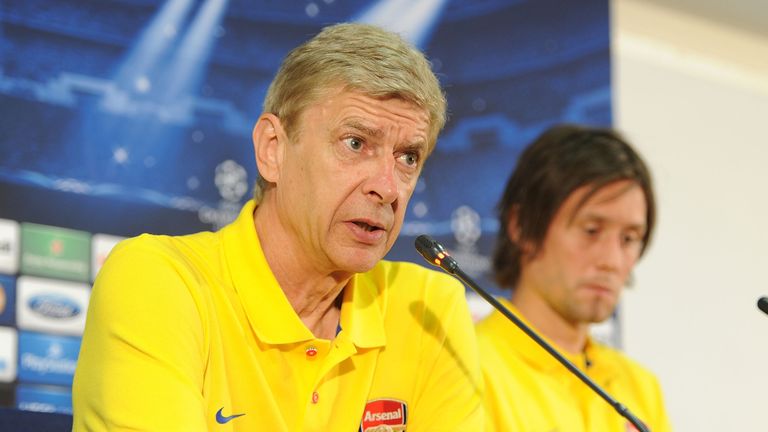 Wenger was reacting to criticism from Newcastle boss Alan Pardew, who claimed he dropped midfielder Yohan Cabaye for the 4-0 thrashing at Manchester City, because Arsenal had unsettled the player by making a bid for him on the eve of the game.
But the Gunners boss, who has found himself under increasing pressure from both media and fans because he has not acquired any of his transfer targets this summer, was in no mood to take any flack over Cabaye.
"There is nothing to explain," Wenger said. "First of all, you don't know what we have done, you don't know if we did bid and you have come to a conclusion without knowing everything that has happened.
"It is quite amazing that all of the people don't know and yet they always have opinions about things they don't know.
"I won't explain to you what happened. It is not down to me to explain to you everything I do. It is impossible.
"If we do a transfer, we will announce it. We always inform you. As for the rest, you have to leave us to do our own things.
"We don't want to hurt anybody, not Newcastle, not anybody. You can't reproach us on one side for not buying and yet on the other side when we try to buy to reproach us as well. That is a bit contradictory.
"I would just like to reiterate to you that in the last 16 years we have been very successful with transfers - if you look at the players who play tomorrow, they are top quality players, and you should never forget that."
Wenger added: "It is not always to think what is outside is better than what you have. What is important as well is to rate what you have and our fans have to understand that as well.
"What is important is to go out and see a good football game. All that other stuff is good for the newspapers, but it is not real football."
Speaking ahead of the Gunners' Champions League qualifier with Fenerbahce, Wenger admits the tie presents a test of character but he is confident his men can overcome.
"You just want to prepare as well as you can and bounce back very quickly from Saturday with a good performance which is what I think we will do," said Wenger, who will have to do without England midfielder Alex Oxlade-Chamberlain for up to three months because of a knee injury.
"Everywhere we go we try to win the game and that is the attitude we have. Again, we will try to play our game as we do everywhere.
"We have been everywhere in Europe in all the big stages and seen heated atmospheres, but we always try to play."
Fenerbahce's place in European competition is yet subject to a full hearing at the Court of Arbitration for Sport after being found guilty of match-fixing by UEFA.
Wenger, though, is not going to let any possible repercussions impact his team's preparations.
"Honestly we don't really know the story so we don't want to speak about that. We want to win on the pitch. That's all we want to focus on," said Wenger, whose side won 5-2 here on their last visit in the group stages during October 2008.
Oxlade-Chamberlain, meanwhile, confirmed on Twitter he would be sidelined for an extended spell, ruling the 20-year-old out of England's final World Cup qualifying fixtures.
"Gutted I'm injured so early in the season," Oxlade-Chamberlain said on the micro-blogging site, "But I'm going to be working hard to hopefully be back playing in 3 months. Thanks 4 all ur support."