Champions League: Arsenal face Bayern and Man City meet Barcelona in last 16
Arsenal will face holders Bayern Munich in the last 16 of the Champions League, while Manchester City take on Barcelona.
Last Updated: 16/12/13 3:01pm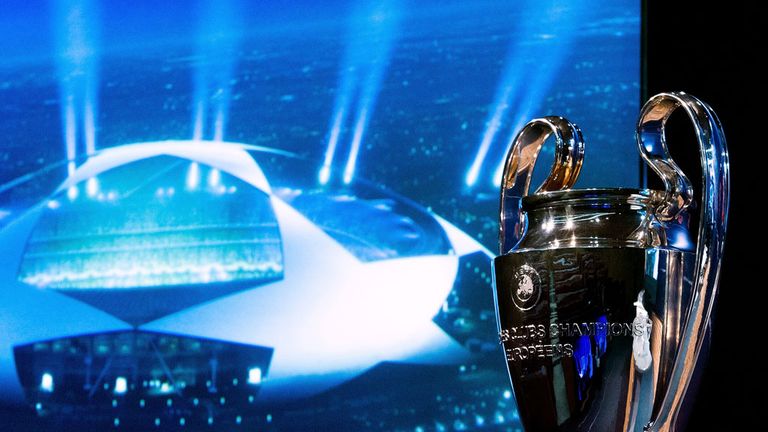 The Premier League leaders, beaten by Bayern at the same stage last year, have paid a heavy price for a final-day defeat at Napoli which relegated them to runners-up in their group.
And City, who finished second to Bayern in their group, have been similarly punished with a tie against Barcelona on their first appearance in the knockout stages.
Elsewhere Chelsea will be up against Galatasaray and Didier Drogba, the man whose penalty won them the competition in a shoot-out against Bayern 2012.
And Greek champions Olympiakos stand between Manchester United and a place in the quarter-finals.
Arsenal winger Alex Oxlade-Chamberlain said of meeting Bayern again: "We managed to get a good result away at Bayern last season so that brings back good memories. If you're going to do well in the competition you've got to beat the best teams."
City's draw is all the more galling given the circumstances when, after needing to better Bayern's 3-1 win at the Etihad Stadium to finish top, Manuel Pellegrini's misreading of the mathematics led him to stick with a 3-2 lead rather than chase a fourth goal.
City's director of football Txiki Begiristain, who joined the club from Barcelona, admitted the draw "could be maybe better".
But he told Sky Sports News: "For the people it's a great, great match. Two big teams, one with a lot of history, the other a new one also trying to win the trophy and be there in Europe.
"And the game in Munich, winning against the champions, will give us a lot of confidence going away to Barcelona.
"The way that we are playing, we're showing we can score in all matches. This is the most important thing in the Champions League."
And Pellegrini added: "I think Barcelona will be very concerned that they have drawn us. They are not the team of two years ago."
However, Barcelona coach Gerardo Martino believes City will be fearful of the two-legged tie with the Spanish champions' recent record in Europe the envy of many of their rivals.
He said: "There were six outcomes and we drew Manchester City.
"You've got to play whoever you get but they will not want to play against Barcelona. They are important opponents with very good players, but we will go there to win.
"The most important thing is to arrive at their stadium in good shape and play well."
Chelsea midfielder Juan Mata said it would be a fond reunion for all concerned when Drogba returns to Stamford Bridge.
He told the official Chelsea website: "Didier was a legend here. I guess that he would be very excited about coming back. He did a lot of great things for this club and scored a lot of very important goals. In fact, he scored probably the most important goals in the history of this club."
John Alexander, Manchester United's club secretary, said the Premier League champions' straightforward draw highlighted how important it had been to win their group.
He told uefa.com: "If you look at the ties Arsenal and City got, that shows why you have got to win the group. Whoever came out of the pot would have been a good one to draw. United are a big club in Greece so we will have a good following over there."
Elsewhere, seven-time winners AC Milan will face Atletico Madrid, Bayer Leverkusen must face Ligue 1 champions Paris St Germain, Schalke will play Real Madrid and Zenit St Petersburg have been paired with Borussia Dortmund.
The first-leg ties will be played on either February 18/19 or 25/26, with the return clashes on March 11/12 or 18/19.
Sky Sports pundit Alan Smith gave Sky Sports News his immediate reaction to the draw and the prospects for the Premier League teams.
He said: "Manuel Pellegrini has got plenty of experience and is an attacking manager, but that doesn't always work in Manchester City's favour - you think of that Bayern Munich game when they got outnumbered in midfield and maybe that's something he will look at against a Barcelona side where, if you play five, they will play six. They love to dominate the middle ground so there's something to think about. If you're a big time player you will react to that draw and be excited about it.
"Arsene Wenger and the players knew that, whoever they got, it was going to be tough. It's a repeat of last year when they got taught a lesson at the Emirates and the tie was effectively over. So many of the players that Bayern have got can hurt you. They are the reigning champions and Pep Guardiola is under pressure, not only to retain the trophy as nobody has done, but to do it in a different way and to stamp his imprint on the team. How do you stop them? I don't know, but Arsenal at their best can score goals against most sides and I hope they can do it against Bayern.
"I think Jose Mourinho quite enjoys these games. There will be plenty of talk beforehand on his part, I'm sure. We are still waiting for this Chelsea side to settle down under Mourinho and for it to become a side in his image. The consistency we've always seen from his sides, we haven't had it and you don't quite know what to expect from them. Come February, things might be a little different but as things stand going into the tie you think they should win it but who knows?
"David Moyes can't have any complaints. It looked as if they would get a favourable draw when you saw the teams that were going to be in their pot, so it's an opportunity for him to move forward and the club to feel better about themselves in the New Year. It's not the best Manchester United side we've seen, far from it, but it is certainly one that is capable of beating this Olympiakos side."
Arsenal are now rated at 28/1 to win the Champions League with Sky Bet following the draw, while City have also been eased to 16/1.
Chelsea are 12/1, while the Red Devils have been trimmed to 14s from 16s and Sky Bet's Dale Tempest said: "The tie of the round has to be Manchester City against Barcelona, in what will be a huge test for both managers.
"We can't separate the sides in the betting on the first leg at the Etihad Stadium with both priced 8/5 for the win, though Barcelona are 2/5 to progress overall."