Manchester United legend Ryan Giggs feeling confident ahead of Bayern Munich tie
Ryan Giggs says Manchester United do not consider themselves to be underdogs against Bayern Munich.
Last Updated: 01/04/14 6:49pm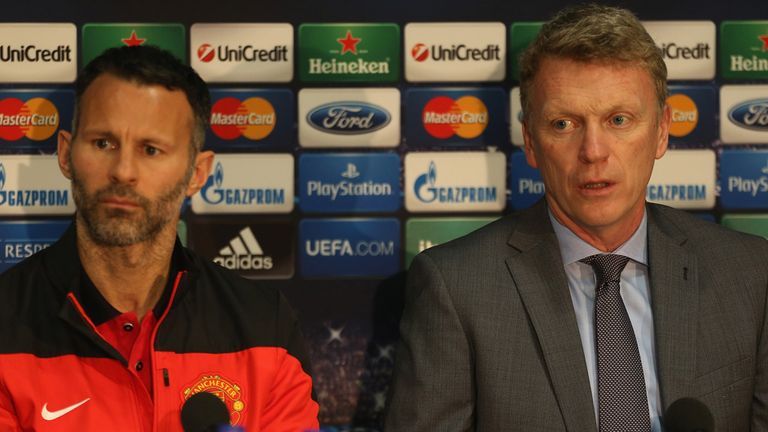 Giggs was part of the United team that beat Bayern 2-1 in a dramatic Champions League final back in 1999, thanks to injury-time goals from Teddy Sheringham and Ole Gunnar Solskjaer, and he expects Tuesday's clash to also be a great spectacle.
When asked to compare the current United side with the 1999 team, he said: "Obviously the players are different but the tradition and the clubs are still the same.
"Two huge clubs, two great histories and two football teams that play football the correct way.
"When Bayern play Man United it is always a great spectacle whether it be in the Champions League final or whether it be in the quarter-finals.
"Obviously Bayern are a fantastic team. They are the holders and are obviously a very strong team and probably favourites in most people's eyes.
"But we are Manchester United, it is at Old Trafford and we have seen so many great nights in Europe especially.
"As players we don't see ourselves as underdogs, we see ourselves as Man Utd playing at home in the Champions League and we can't wait.
"These are the games that you want to be involved in as a player and we will go out there and try and win the game. It is going to be tough but it usually is in the quarter-finals of the Champions League and we are confident."
The veteran Welsh winger is also convinced that United can upset the odds and win the Champions League this season.
"Of course it is possible (for United to win the Champions League)," the midfielder said.
"You need to play well, to get that little bit of luck which we didn't have last year.
"Being criticised comes with the territory when you are a Manchester United player and Bayern are a fantastic team."
Giggs also denied rumours of a rift between him and United manager David Moyes.
"I don't know where that's come from," said Giggs. "Yes, the relationship's good. Of course you want to play all the time, but there's obviously no problem with the manager."
The 40-year-old added that he has not made a decision on whether he will be leaving Old Trafford at the end of the season.
When asked if this was likely to be his last European campaign, he replied: "I don't know. At the end of the season I'll take stock and see what I want to do."
Moyes
And Moyes is confident his team will be able to cope with Bayern Munich and is expecting a big performance from United.
He said: "We are going into the game knowing that on our day we are as good a side as any.
"We have to show it more often than we have done but I have great belief in the players. I have said that from day one and it hasn't changed.
"I get the feeling they (the players) all want to play. I can tell by their training and their attitude that they are saying 'this is a big game' and they all want to play in the big games.
"That's what I think that over the years the players here have wanted to do."
Right-back Rafael is a doubt for the game with a thigh strain, while left-back Patrice Evra is suspended and his deputy Alex Buttner ended Saturday's game against Villa with a tight hamstring.
The Dutchman did take part in an open training session on Monday, though, along with centre-backs Rio Ferdinand, Chris Smalling and Jonny Evans who did not feature at the weekend.
Moyes added: "We have defensive issues undoubtedly. I won't be giving out my team today but, as everybody is aware, we will have to make one or two changes."