World Cup 2014: Cesare Prandelli steps down after Italy crash out
By Nadia Carminati
Last Updated: 24/06/14 9:04pm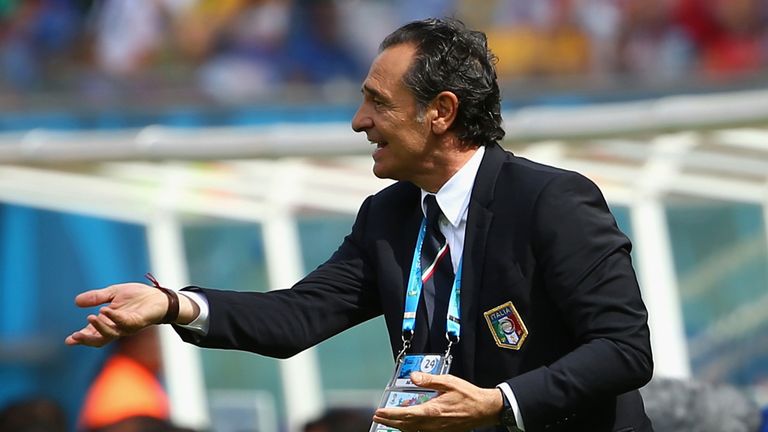 Italy coach Cesare Prandelli has announced his resignation after the 1-0 defeat to Uruguay sent his side crashing out of the World Cup.
Prandelli took up the post in 2010 and led his country to the final of Euro 2012 but his side failed to qualify from Group D following two defeats at the hands of Costa Rica and Uruguay after a 2-1 win over England in their opening game.
He announced he has submitted his resignation to the Italian FA's president, Giancarlo Abete, who says he hopes Prandelli will reconsider his decision, while Abete himself has also stepped down.
However, former Fiorentina and Roma coach Prandelli said he will stand by his decision to resign.
Prandelli said: "I talked to the President of the Federation and Demetrio Albertini, and gave my resignation. The technical set-up didn't work, and I take all responsibility for that.
"Something has changed since my contract was renewed. I don't know why. I chose a certain technical plan and that's why I am resigning, because it did not work. My resignation is irrevocable."
Abete also announced he is stepping down, saying: "I would like to announce my resignation. I do hope that at the forthcoming meeting of the board, they can persuade Cesare to reconsider his position.
"I had already made my decision before the World Cup."
Despite a solid defensive performance Italy were put under increasingly pressure following the sending-off of Claudio Marchisio, and an 81st-minute goal from Diego Godin ensured Uruguay advanced to the knockout stages at the Italians' expense.
Prandelli added: "A second European Championship, third at the Confederations [Cup] and the qualification obtained in advance should not be under-estimated.
"The match was well-balanced in equal numbers, but the sending-off changed it all."