World Cup: Costa Rica coach Jorge Luis Pinto urges referee to watch Arjen Robben
Last Updated: 05/07/14 12:19pm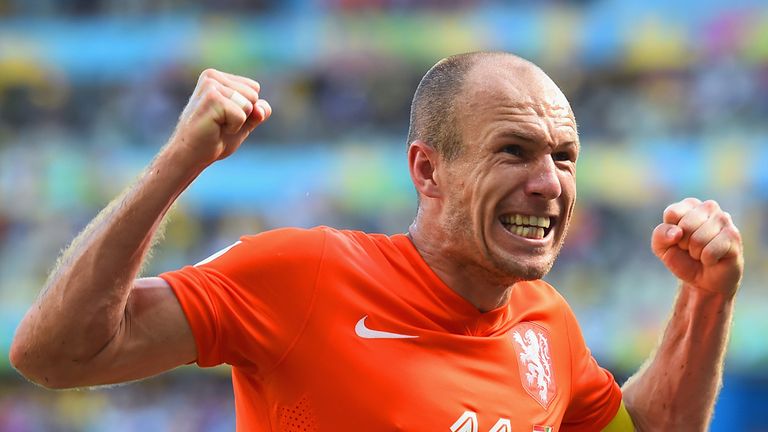 Costa Rica coach Jorge Luis Pinto has urged referee Ravshan Irmatov to keep a close eye on self-confessed diver Arjen Robben in Saturday's World Cup quarter-final.
The Netherlands star admitted diving early in their 2-1 victory over Mexico in the last 16, and won a penalty right at the end of the game – though the winger insists he was fouled in that incident.
Pinto is hoping the referee, from Uzbekistan, will be brave enough to send Robben off if he catches him diving.
"This is one of the most important questions I have been asked. In this World Cup diving is something that has us worried," Pinto said.                 
"I would like to ask FIFA and the referees to watch Robben closely. We're really worried about Robben's diving. He admitted that he dived so I hope the next referee and assistant referees are very careful tomorrow," Pinto said.
"I respect them a lot but I tell them: watch out. I hope there are no mistakes... so I would like to ask FIFA and the referees to watch out because this is very, very important and it could have an impact on the result.     
"I think Robben is one of the three or four best players in the world. I have a website where I analyse him as a player. He's amazing, he's a great player.                
"But on the other hand there have been refereeing mistakes and the referees need to watch out."
Robben, 30, went unpunished by FIFA but his confession caused much debate and brought him widespread opprobrium.
Asked whether Irmatov, 36, should book Robben early if he suspects him of diving, Pinto said: "Well that might be the most logical solution.
"Maybe he would have to leave the field because he gets two yellow cards for diving. That could happen. But I want to trust the referees - let's see what they do on Saturday."