Modric move 'smart'
Spurs will profit doubly from the sale of Luka Modric to Real Madrid, says Guillem Balague.
Last Updated: 27/08/12 1:53pm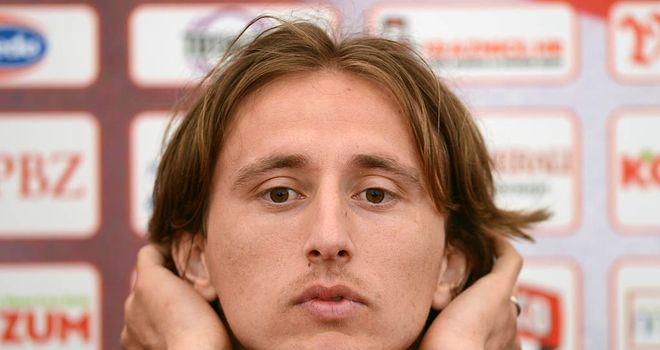 Shrewd Spurs will profit doubly from the sale of Luka Modric to Real Madrid, according to Guillem Balague.
The two clubs have finally agreed a five-year deal for the Croatian international thought to be worth at least £33m. Modric deal agreed.
Balague told Sky Sports News HD that Real have decided to pay more than they hoped following their 2-1 away defeat to Getafe on Sunday.
And he praised Spurs chairman Daniel Levy for negotiating a partnership that forges closer ties between the clubs on the playing, coaching and commercial fronts.
"It's taken so long because Spurs want to find a replacement - that's what Real Madrid have been saying. They must be on the verge of getting one or perhaps more than one," said Balague.
Surprise
"Did you see the result at the weekend? That's probably one of the reasons why everything was rushed. Of course there is the second leg of the Super Cup on Wednesday and Real Madrid wanted to do it before that, too.
"The basic figures had been agreed a long time ago. Real Madrid say it is about 35m Euros but I hear it could go up to 37m Euros; Spurs perhaps managed to get a couple of million more last night because of the situation. We're talking about £29.2m in the exchange rate at the moment.
"So it is one that was going to happen and one that has got the surprise addition of a partnership with Real Madrid.
"As you know Spurs have got a partnership with four clubs around the world - that's a commercial and a football partnership. I've known for a while that Spurs have wanted to find a club in Spain that they can link themselves too and there's no bigger than Real Madrid.
"So it is about exchanging players, exchanging coaching information, commercial deals and friendlies that will be played in the next few years.
"It's no more than that. There may be interest from Real Madrid on Gareth Bale but it's not that sort of commercial deal. It's more to do with the academies and with the possibility of exchanging coaching information and coaches."
Intelligent
In a statement Real Madrid president Florentino Perez welcomed "the cementing of a longer-term partnership" between the Spanish Champions and Spurs, which Balague believes will help Los Blancos nurture their next generation of players.
"You've got Jose Mourinho in charge at the moment and he's like the No 3 at the club, so he takes big decisions - big strategic decisions and this is one of them," added Balague.
"He loves the fact that players, even young players, can go to the Premier League and learn things that they cannot learn in Spain about the tempo of the game, they can make themselves stronger.
"You saw during the Nuri Sahin deal he wanted Sahin to go to either Liverpool or Arsenal. There were offers from Germany and Turkey, but he thought that the Premier League was the perfect place to develop a player.
"Well, you can think exactly the same about the Academy players and now Jose Mourinho has got influence and power on that so it makes sense from both sides.
"I think it is a good decision and I'm pleased; Daniel Levy is one of the most intelligent men in football, the way that he manages his business. What he's got out of this deal suggests as much."