Tony Pulis would have to pull out stops to transform Palace's position
Tony Pulis would be a great fit for Crystal Palace, says Jeff Stelling, but what's in it for him?
Last Updated: 24/10/13 2:58pm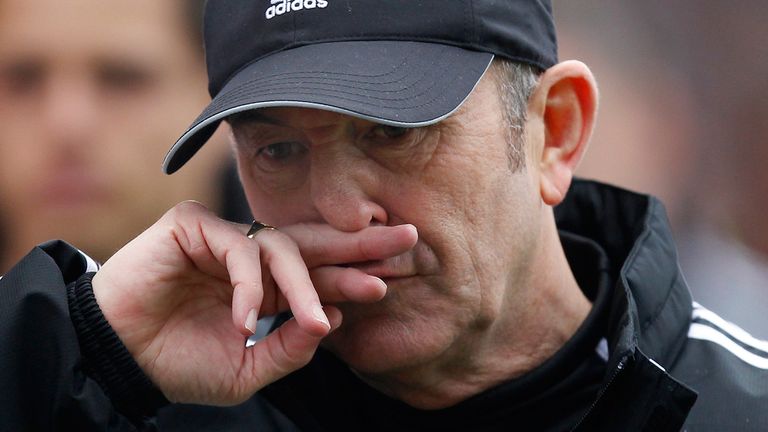 Admittedly, Palace aren't much better off on three points and are likely to be manager-less when leaders Arsenal come to Selhurst Park on Saturday.
But whereas I don't think Palace are equipped to climb out of the bottom three, not only have Sunderland made a decent appointment in Gus Poyet but the quality of their squad is superior.
Former Stoke boss Tony Pulis is thought to be among the leading candidates to replace Ian Holloway but does he really want relegation on his CV?
Pulis is a good manager who did brilliantly at Stoke, even though he had his detractors (particularly at the end), and I happen to think that he'd be great for Palace.
But whether Palace would be great for him is another matter entirely and Pulis might be better off seeking another opportunity, even if it's in the Championship with a relatively solid side.
Inevitable
It's always a shame when a football manager loses his job in any circumstances - and that goes for Tony Mowbray as well this week, who is a top man.
But it's worse in a way (and we see it time and again) when that manager goes so soon after winning promotion with his team.
Holloway's departure was inevitable after the manner of Monday's 4-1 defeat to Fulham, even allowing for the quality of Fulham's opening goals.
Such was the team's performance for the last hour of the game that it was pretty clear that something had to change; it didn't look as if there was much spirit about them in the first half, let alone the second.
Early on I was convinced that Fulham should have left Dimitar Berbatov out but in the second half Fulham were playing like Real Madrid and Berbatov looked like one of the best players in the world.
At that stage Palace were theoretically chasing the game but there was no real attempt to close the opposition down - the hunting in packs that you see from many successful sides was lacking.
That absence of desire shocked me.
Struggle
Following the defeat - Palace's fifth in a row and their seventh in eight games - Holloway has now come out and admitted it was a big mistake to bring in 16 players during the transfer window.
There would have been a fantastic team spirit amongst the promoted squad but by introducing so many new faces the club was effectively saying 'you lot are not good enough' which inevitably would lead to an 'us and them' situation.
When you look at some of the players that did come in, you have to wonder quite what the club was thinking; there were so many examples of players simply not up to the task so they would have been far better off buying three or four better-quality players to supplement the squad.
It saddens me to see someone like Dwight Gayle, who has done so well to come up through the ranks, looking like a little boy lost at this level.
If you look at Palace's results towards the end of last season the warning signs were there because from March onwards it was a struggle.
I remember that they were thumped at Brighton and then thumped at home by Birmingham the following week; these weren't narrow defeats. I was surprised when they did go up via the play-offs because at the time I thought they were absolute outsiders.
You could say that in some respects (particularly with Wilfried Zaha on his way out) the writing was on the wall and maybe that's why Palace decided to make so many changes.
Maybe they felt that the group of players they had would struggle to get them over the line in the Premier League, but in retrospect it's clear that the transfer policy was wrong - there were simply too many changes too soon.
They managed to lose to Bristol City in the Capital One Cup, which is a major achievement given City can't win a game at their own level!
And the one thing I can't work out is why Palace keep leaving Kevin Phillips on the substitutes' bench; I know he's 40 years of age but they need goals and he's still a quality finisher.
On Monday he came on after 69 minutes when Palace were 4-1 down. Why not start with Phillips and then replace him, even if he plays for an hour, rather than use him to try and put out fires that are well established?
It may not make a huge difference to Palace's fortunes, but it's got to be worth ago because so far the Premier League hasn't been the paradise that Palace fans hoped it would be.
Jeff's Gem of the Week
Exeter's 4-0 win at Scunthorpe was an excellent effort but I'm going for Derby's 3-2 away win at Watford. Steve McClaren has made a fantastic start there and his team is scoring lots of goals, which is great to see; I've got a lot of sympathy for Nigel Clough but at least he's bounced straight back into a job at Sheffield United. My only concern for Derby is that they are conceding a fair few goals as well, so I'm sure Steve will be looking at ways to close the door.
It's a good time to be a Derby fan - they've got Birmingham at home this weekend and you'd think they've got a good chance of winning that and they've got Jamie Ward scoring goals again. They've got a decent blend of experience and youth in the squad, too. Steve will want to play an expansive passing game and whatever happens there will be some exhilarating games involving Derby, that's for sure.