Roy Hodgson admits Wayne Rooney is next in line to captain England
Roy Hodgson has confirmed Manchester United star Wayne Rooney is England's captain-in-waiting.
Last Updated: 14/10/12 9:55am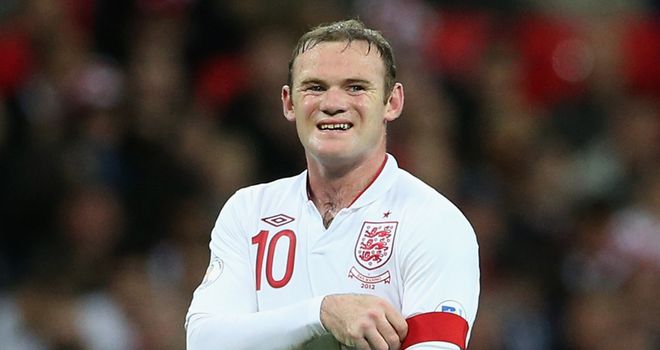 Rooney took the captain's armband during Friday's 5-0 win over San Marino with Steven Gerrard suspended and Frank Lampard injured.
The Manchester United forward responded with two goals that took him to 31 for the Three Lions, and fifth on the all-time list, ahead of Alan Shearer, Tom Finney and Nat Lofthouse.
And whilst Gerrard will get the job back in Poland on Tuesday, Rooney is next in line to become skipper.
"Yes," said Hodgson, when asked if Rooney was a future England captain.
"He was my vice-captain at the Euros from the moment he could start playing again. He does take playing for England unbelievably seriously. I know being captain is something he's very proud of and something he wants to do.
"Frank Lampard has captained the team when both Steven (Gerrard) and Wayne were absent. But I always had in my mind that Wayne would be the vice-captain and when Frank comes back I suppose I've got a decision to make."
Hodgson has admitted he is now seeing the best of Rooney after conceding the 26-year-old was not in peak form during Euro 2012.
"At the moment I am seeing the best of Wayne Rooney," added Hodgson. "Maybe in the earlier games he could play for me he wasn't at that level.
"Now I have to hope now he stays at his best and that he stays fit and healthy and continues to do what he is doing for Manchester United at the moment, which means he'll do it for us as well."
Trophy target
Rooney has admitted he wants to eventually become England's full-time captain and is dreaming of leading his country to a major success.
"As a young player, your dream is to play for England and once you do actually play, the next step is to try and captain your country," noted Rooney.
"I've done it now, it was a great honour and a great feeling, and hopefully one day in the future it can be full-time.
"But I also want to help England to be successful. To be successful is a dream, not just myself but everyone in the dressing room.
"Can I hold a trophy up (as captain)? I hope so. It's a long way away. But that's the stuff of fairytales."