World Cup: UEFA president Michel Platini warns winter World Cup is a must
Michel Platini has told English football they must not stand in the way of moving the 2022 World Cup to the winter.
Last Updated: 30/08/13 1:38pm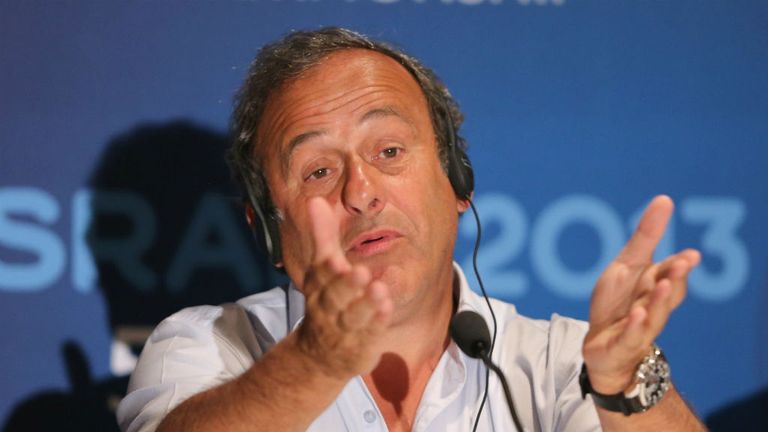 The Premier League strongly opposes any such move, claiming that it will disrupt three league seasons - the 2021-22 campaign and the seasons on either side.
But Platini said the English had set the calendar for the last 150 years and should allow a change to be made for a single month.
He told reporters in Monaco: "It is only a break of one month. We normally stop one month in May, instead we stop one month at another time.
"I will say something to the English. We respect your calendar for 150 years - for one month in 150 years, you can change.
"I played in winter all my life, in the snow, in the rain, because of your calendar. You can change it for one month - I don't ask any more.
"In Qatar there is nobody there in June, they are all in Europe, it's 50 degrees and you can do nothing. I have said that from the beginning and I was always transparent about that because I think it is time we take the World Cup to an Arabic country."
Canvassing views
FIFA president Sepp Blatter has recently come out in support of Platini and a way forward could be decided upon by FIFA's executive committee in October.
Platini said he will gauge the views of the European associations at a meeting in Dubrovnik, Croatia, next month.
He added: "I didn't know Mr Blatter wanted to change this until a few weeks ago.
"He will probably create a committee to say when is the best moment for that. I will speak to the national associations in Dubrovnik next month and if they recommend to play it in the winter we have to listen."
Platini dropped a hint that he would prefer to play the tournament in January rather than November or December, after saying that it could be held in a way that did not disrupt the Champions League.
He said: "I have put some of my administration to look at the best way and if we go in the moment that I think is the best way we have to change nothing (for the Champions League and the Europa League)."