Leighton Baines says young players have given England a lift
Leighton Baines says the England squad has been revitalised by the injection of youth by manager Roy Hodgson.
Last Updated: 13/10/13 4:53pm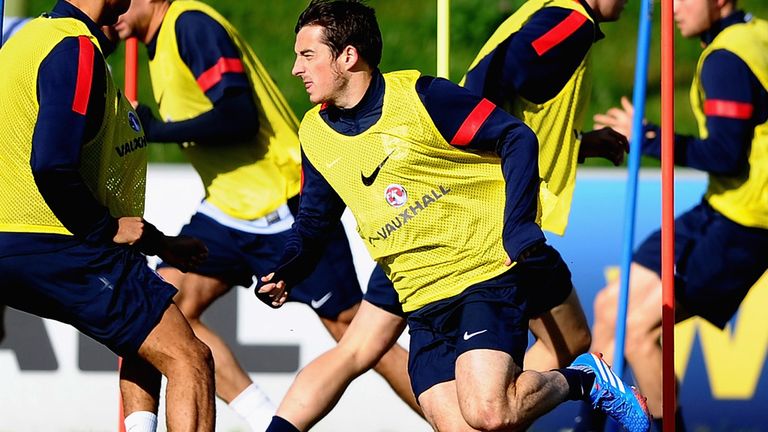 England face Poland at Wembley on Tuesday night knowing that victory will guarantee qualification to next year's World Cup in Brazil following Friday's encouraging 4-1 Group H victory over Montenegro.
The win was inspired by a man-of-the-match performance by debutant winger Andros Townsend, who scored one and made one, while striker Daniel Sturridge capped a fine display with an injury-time penalty for England's fourth.
And left-back Baines, who will win his 21st cap against Poland in the absence of the injured Ashley Cole, says there is an excitement around the squad.
"The emergence of the younger players has brought that fresh blood and excitement to the squad," he said. "That combines with the experience of some of the other players, which is vital in big competitions like the World Cup. If we get the blend right, it puts us in a good position to really go and do something.
"It was an outstanding performance from Andros, it was a massive lift for us. He's now an important part of the squad, he's shown he can produce magical performances and it's important for the manager to know that."
Poland's chances of reaching Brazil were ended when they slipped to a 1-0 defeat to Ukraine on Friday, but Baines insists England are focused solely on their own job.
"It could be difficult," he added. "Now that Poland are out, we're not sure how they will approach the game so we just need to forget about that and concentrate on our own game. It will be a tough task because Poland are still a good side, but we are also aware of the rewards on the other side and that's a great incentive.
"The job is half done and now we have to finish it off. We're accustomed to the pressure of big games for club or country so we will express ourselves. We just need to focus on what we need to do."
Failure to win on Tuesday would likely see England enter November's play-offs, but Baines is determined that it won't come to that.
"It's nice knowing the play-offs are there and that it's not lose and bust, but we're not thinking about that. We know we're capable of beating top sides at home, so we are focused on winning the game. The safety net is there if needed but hopefully it won't be."
Everton defender Baines is confident he will turn in another assured display on Tuesday and give his manager further food for thought over who should be his first-choice left-back going forward.
"The manager feels that we can both do the job," Baines continued. "He can call on either one of us. That's all that matters really, that the job gets done."
Baines' appearance against Montenegro on Friday marked his 20th cap for his country and he feels he is developing as a player with every national team outing.
"There's significance with every cap you get," he said.
"You grow into it more and more. The more experience you get at this level, the better.
"It's been good to be involved in some more of the qualifiers in this campaign."
Baines confirmed the mood in the England camp was upbeat in the wake of Friday's impressive win in their penultimate Group H outing.
"I'm pleased with how things are going at the moment," he said. "There's a feel-good factor around the whole camp at the moment.
"We've approached both of these games like any other camp. We've not deviated from any schedule. There are no special plans. We focus on what we need to do."