World Cup: FIFA medical chief Michel D'Hooghe deems water breaks a huge success
Last Updated: 30/06/14 3:45pm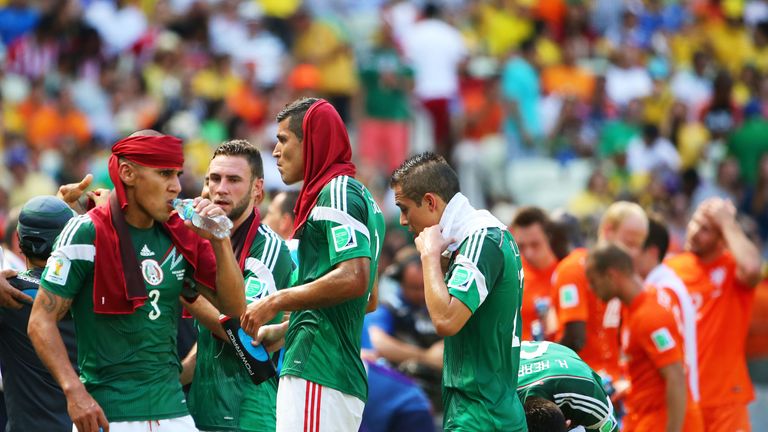 The introduction of water breaks for Holland's World Cup last-16 victory over Mexico was a resounding success, according to FIFA's medical chief Michel D'Hooghe.
With temperatures soaring to 34 degrees Celsius in the stifling heat of Fortaleza, referee Pedro Proenca allowed the players to have three-minute cooling breaks in the 30th and 75th minutes.
D'Hooghe was delighted with the results and spoke about the Wet Bulb Globe Temperature method which determines when FIFA decide to implement the water breaks.
"I was very pleased by it because it was the first time in this tournament that the Wet Bulb Globe Temperature came above 32 degrees namely 34 degrees," he said.
"It's a mixture of temperature, of humidity, of wind and of solar inclination. The referee was pleased, the players were pleased and so it is certainly an experience that we will continue."
According to FIFA regulations, if the temperature rises above 32 degrees Celsius on the Wet Bulb Globe Temperature scale then water breaks become mandatory.
However, D'Hooghe revealed that water breaks can also be introduced for temperatures lower than 32 degrees at the referee's discretion.
"Of course it is a matter of common sense," he said. "If it is one degree lower and really everyone feels very warm then the referee can also introduce a break in the 30th and 75th minutes."
Holland staged a last-gasp comeback in the game, with goals from Wesley Sneijder and Klaas-Jan Huntelaar, in the 88th minute and injury-time respectively, condemning Mexico to a fifth-consecutive last-16 World Cup exit.
Dutch coach Louis Van Gaal revealed afterwards he used the water break in the second-half to make key tactical adjustments which helped the Oranje turn the game around.
D'Hooghe admitted opportunities such as this are an unintended side effect of the breaks but maintained the health of the players had to take precedence.
"That's a side effect," he admitted. "That is why we say we must keep it short. We must keep it until three minutes and not more because otherwise it becomes a simple matter of half time.
"It is not our intention to do that. It is purely medical. A cooling and drinking break is just to protect the health of the players."