Newcastle defender Fabricio Coloccini sad not to be returning to Argentina
Newcastle's Fabricio Coloccini has thanked San Lorenzo and spoken of his sadness that a move will not be going ahead.
By Paulo Freitas
Last Updated: 27/01/13 8:23am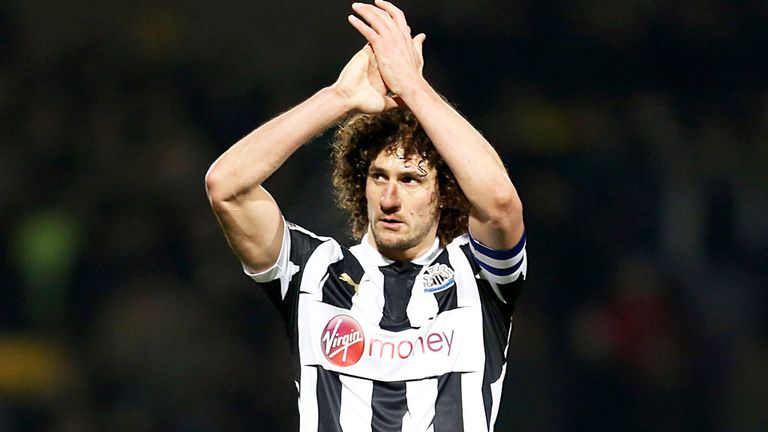 Coloccini had hoped to return to South America for personal reasons but Alan Pardew confirmed on Friday that he would be staying at St James' Park at least until the end of the season, while he will also remain skipper.
The 31-year-old has now sent an open letter to San Lorenzo, along with his agent Marcelo Lombilla, to express his gratitude and also explain why he will not be able to join.
The letter, which was published by the Twitter account of San Lorenzo, read: "To my San Lorencista family.
"I write these lines from a long way away where I am missing my country, my family and my close ones. And with sadness of knowing that after a series of meetings held here in Newcastle that my return to Argentina has been momentarily suspended.
"Unfortunately, life does not always end up like you wanted it or needed it to, many times is it influenced by third parties and the rigidities of contracts that are stronger than the will of one's own desires.
"However, I am convinced that this moment of disappointment need not be an obstacle for me to declare my profound gratitude to each and every one of you for the affection and the support that you all have provided me during these past few months, in every way imaginable."
Coloccini added: "I wish to thank the authorities at San Lorenzo del Almagro and especially show my gratitude to the president, Dr Matias Lammens and vice president, Mr Marcelo Tinelli, for all the affection, support and understanding they have afforded me and who from the first moment, without any reservations or conditions, were interested in my personal and family situation and who put themselves at my disposal.
"Essentially, I want to thank the enormous effort made by them, from every point of view, to remove whatever difficulties I may have come in touch with."