Brits abroad - Alan West
Continuing our Brits abroad series in which we speak to players and coaches to get the lowdown on their time overseas, Adam Bate talks to ex-Luton player Alan West about how he came to be named in the NASL All-Star team alongside Pele.
By Adam Bate - Follow @GhostGoal
Last Updated: 21/12/12 12:40pm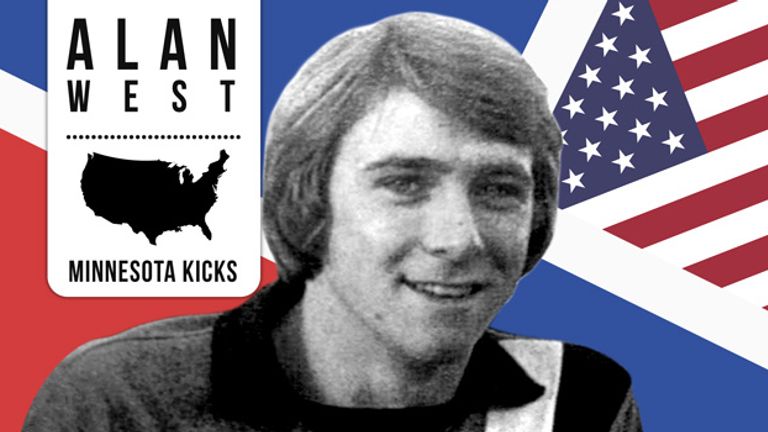 Alan West played over 300 games for Luton Town from 1973 to 1981 and is now the club chaplain at Kenilworth Road. But for four summers in the 1970s, West led a double life in the North American Soccer League alongside some of the biggest names the game has ever known. Adam Bate caught up with the former midfielder to have a chat about the experience...
How did you end up playing in the North American Soccer League?
It started for me when Freddie Goodwin, the former Manchester United player who was now coaching out in America, got in touch with Harry Haslam, my manager at Luton Town. He was looking for players for a new NASL team called the Minnesota Kicks.
And you were tempted?
I had never had any specific desire to go to the United States but it was something new and different - and at that stage I was going into it thinking this would only be for one summer. But once my wife and I were out there we just loved it. We lived in Minneapolis and the people were lovely. It really was wonderful to be in an environment where sport was valued so highly.
What was the standard like?
I was expecting the standard of football to be pretty low but I was surprised. It was a good level and in Minnesota alone we had guys like Charlie George and Mike Bailey who had played for England, as well as other good players from back home such as Ron Futcher and Chico Hamilton. There were also some impressive foreign players - none more so than Patrick "Ace" Ntsoelengoe from South Africa who I rank as one of the best footballers I ever played with.
You played to some pretty big crowds in Minnesota too...
The fans in Minnesota embraced the team right from the start. I think there must have been 18,000+ there for the first game which was unbelievable and it only grew from there. There were a lot of Scandinavian ex-pats in the area who understood the game and that helped create a marvellous atmosphere at games. There was a real European feel to it and it wasn't unusual to play to crowds of over 40,000.
And you were out there the same time as Pele...
Of course, the matches against New York Cosmos were real highlights. I remember a crowd of 72,000 in Giants Stadium and obviously Pele's involvement in NASL generated a huge buzz about the whole sport. Some of the big names like him, Franz Beckenbauer, George Best, Gordon Banks and Eusebio may have been past their prime but these were global stars and childhood heroes of mine.
Was it different for you because, unlike many others, you weren't at the end of your career?
I was 24 years old when I first went out there and this was very much my prime. We did well in our first season and actually reached the 1976 Soccer Bowl before losing to Eusebio's Toronto side in Seattle.
The next season was the highlight of my entire career. I was selected by my fellow players for the NASL All-Star XI alongside the likes of Pele, Beckenbauer and Best. It was a real honour to be recognised in this way and I'm so proud of it to this day. Being in that company was just amazing. I still have a photo of me with Pele from a press conference we did. Every team got to send one player. New York Cosmos sent the greatest player of all-time and Minnesota Kicks sent me - unbelievable!
Did you find it difficult to adapt to life at Luton when you were playing NASL in the off-season?
It was strange going back after summers like this. It almost felt like a double life. People had little interest in what had gone on out in the States. They had the attitude that it was second-rate stuff and didn't really understand. Captaining Luton was still my number one priority but I ended up going back to America for four consecutive summers from 1976 to 1979.
So you were playing non-stop football?
Playing that much football probably took its toll on me in the end. It does make me laugh when I hear players moaning about needing a rest these days. I was playing maybe 80 games a year without any break for nearly five years. At the time I took the view that a change was as good as a rest but I started to pick up injuries once I hit 29 and looking back I suspect it may have cost me a year or two at the end of my career - but I wouldn't change it for the world.
Why did you stop going out there?
Unfortunately, the rules changed after '79 and it was no longer possible to continually be loaned out to the same club every summer. In truth, I would have only gone back for one more season and, as it happened, Minnesota Kicks folded in 1981.
Were you tempted to stay out there? A lot of British players from that time did...
I did think about going to live out in the States and work as a coach. I know Ron [Futcher] did and Steve Litt too who I also knew from my Luton days. I think my wife liked the idea but it was never quite right for us. I still have friends out in Minnesota that I stay in touch with though and that affinity with the place remains - not least because my son Ben was actually born there.
And great memories?
It's a time of my life I look back on with great fondness - me and Pele in the all-star team - how could I not?!