Chris Kamara: Man United out of shadows and responding to David Moyes
Confident Man Utd have stepped out the shadows and responded to David Moyes, says Chris Kamara.
Last Updated: 23/12/13 1:43pm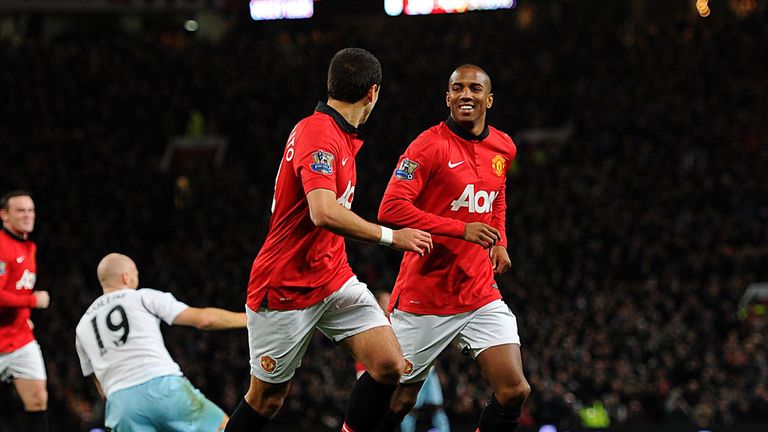 David Moyes will think United are title challengers again
KAMMY SAYS: It's amazing what confidence does. Two weeks ago we were looking at one or two of United's players and thinking they're not the standard to win titles or the Champions League and then two weeks later and Ashley Young has stepped out of the shadows, Danny Welbeck has responded to his manager saying he's a little bit lazy and Wayne Rooney is playing out of his skin once again and they're now back in the mix. David Moyes is having the good period that everyone knew he was going to have. If you spoke to him now he'd still say there are going to be one or two more teething problems along the way but at least now they've got themselves in with a chance and they're title contenders again instead of everyone saying they'll be lucky to finish in the top four.
For West Ham what a difference a few days makes; they beat Tottenham at White Hart Lane but let's be honest, who expected them to win at Manchester United apart from the manager and their own players and supporters? It's not that much of a disaster and there are other winnable games for West Ham. That one wasn't one of them.
Malky Mackay keeping his job is a victory for the supporters, but how awesome is Luis Suarez?
KAMMY SAYS: It's a victory for the supporters, that's one thing for certain because they've campaigned for Mackay. I said on Goals on Sunday I hope it's not a stay of execution because as soon as you have your first bad run they end up getting rid of you, but I hope for Malky's sake that that bad run doesn't come along and then they say it's nothing to do with him personally, it's to do with results. Football is football, we've seen it all before and you're on borrowed time if you're doing well or not, but it is just ridiculous to reach levels in a situation like 'resign or be sacked'. It's crazy for someone who has done so well at the football club.
Then there's Liverpool; Suarez is awesome, really awesome. We talk about Lionel Messi and Cristiano Ronaldo being at a different level but at the moment Suarez is at a different level in the Premier League.
Man City have got attitude and give you plenty of value for money
KAMMY SAYS: I think Man City have got this attitude at the moment that they are better than everyone else and even if they concede that they'll come back at them and they're strong characters because they certainly don't wilt. They've had a few poor results away from home but they just move in to another gear now and you can't fault them.
We had Jimmy Floyd Hasselbaink as a guest on Goals on Sunday and he thinks they wouldn't get away with playing so gung-ho against better clubs. They don't seem to know how to finish a game off; if they go 2-0 up they want to get another one and if they go 3-0 up they want another one to make it four. Jimmy was saying there are times when you have to say 'right, that's enough, we need to close shop now', but you'd be wanting to go and watch Manchester City at this moment because you're getting value-for-money entertainment beyond belief.
Tim Sherwood deserves his chance
KAMMY SAYS: Tottenham did well because it's never an easy game against Southampton, especially when you concede early. Adam Lallana played brilliantly and you thought it was going to be the Saints' day. Tim Sherwood has gone out on a limb though and picked Emmanuel Adebyaor as his talisman and basically he's saying, 'I'm going to show you that AVB made the wrong decision and I'm going to make the right one and if it works I might get the job, if it doesn't at least I've had a go' and so far it's working for him.
Adebayor has three goals in two games since he's brought him back and Daniel Levy will be looking at that and speaking to the owner and saying 'look, let's give him a go' and why not? I know they lost to West Ham in the Cup but that was 24 hours after they sacked AVB, there was always going to be some sort of payback for that situation. He can't work a miracle overnight but he had a few more days before this game and he picked a considered team for Southampton to get a result. As a caretaker you can only get wins and if you get wins you should get a shot at the job.
Everton are playing with freedom and flair
KAMMY SAYS:We did a scouting report on Ross Barkley when Everton played Aston Villa and he's a young lad so he's going to have good and bad days but he's got class and he's got pedigree and he'll find consistency as he gets older, but there's no doubt in his ability.
Roberto Martinez deserves a lot of credit as well; you look at Seamus Coleman now and the improvement we've seen in him. Like Barkley he looks great on the pitch and Bryan Oviedo has just come in to the team to replace Leighton Baines and done really well. The Everton players are playing with real freedom and enjoyment and they're certainly having a cracking season so far.
Newcastle took it to Palace and Alan Pardew gets his rewards
KAMMY SAYS:You have to give Newcastle all the credit. They went to Palace to win and they did. They've got a very attacking formation and they really got at them. It would have been easy to see Crystal Palace's form continue because of how hard they're working under Tony Pulis and the fact that they were unlucky away to Chelsea the week before.
Newcastle went there and took the game to them and going into Christmas Alan Pardew has done a fantastic job when you think of all the turmoil at the start of the season; all the nonsense with the chairman and Joe Kinnear and everything else. Alan Pardew has been nothing but upfront and honest about it all the way along and now he's getting the rewards that he deserves.
Mark Hughes is getting his feet under the table
KAMMY SAYS: You have to take into consideration that Mark Hughes was going in and changing things at Stoke. At first they didn't look great but all of a sudden he's getting his feet under the table and he's starting to bring in his own players, his own ideas and his own ethics on the game and things are starting to go well for them. It's never an easy game against Aston Villa that's one thing for sure.
Sunderland's tired legs couldn't keep up
KAMMY SAYS: Gus Poyet said in the week after Sunderland beat Chelsea that the significance of that result would be dependent on how well they did against Norwich. Basically he meant they needed a win. As Jimmy Floyd-Hasslebank said on Goals on Sunday, the Chelsea game came at the wrong time because the most important game in their week was the Norwich game yet they ended up playing extra time against Chelsea.
Obviously they had the feel-good factor but they had the tired legs and that boost that they looked to have against Norwich wasn't there unfortunately and a lot of it was to do with the Capital One Cup. I remember Big Sam and one or two others getting loads and loads of stick when they put out an under-strength team in the League Cup and they would get slaughtered. Big Sam's answer would be: 'My priority at this moment in time is keeping the club in the Premier League.' When you're a fixed Premier League team, like West Ham are now, then you can go for it. Gus Poyet will be delighted that he's through but he played his best team against Chelsea and then a few days later they weren't as sharp as they should have been and there's a lot to be said about that.
A small lapse in concentration cost Hull
KAMMY SAYS: I was there for this game and I felt that Hull were really well organised. They had one lapse in concentration and were stung for it because it had looked a 1-0 win all over for them. Considering they're a team that has just been promoted they look like a team that has been settled in the Premier League for a long time and under Steve Bruce things can only get better.
West Brom are manager-less but caretaker boss Keith Downing has done great because he took a risk and put three subs on in the second-half and they responded and scored. He couldn't do any more than that whether he's holding the reins or not and under the circumstances they did great.