Frank Lampard will leave Chelsea in the summer, agent says
Frank Lampard will leave Chelsea when his contract expires in the summer, his agent says.
Last Updated: 08/01/13 11:49am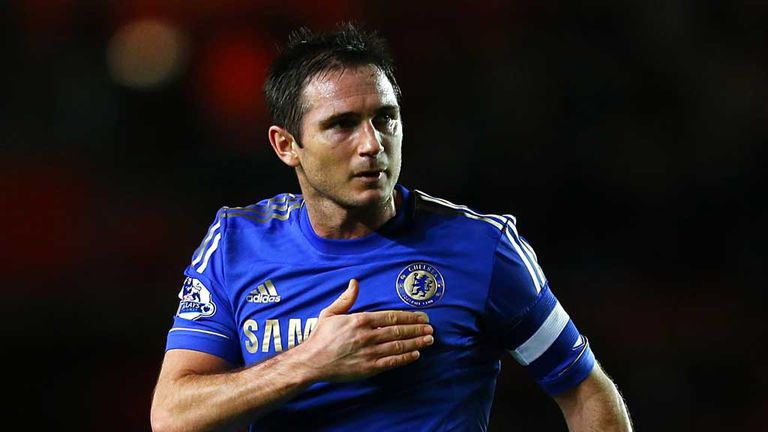 Weekend reports had suggested that Blues owner Roman Abramovich was considering bowing to fan power by offering the 34-year-old midfielder a new deal.
Lampard, who is understood to have been willing to take a pay cut, moved alongside Kerry Dixon as the Chelsea's all-time leading scorer on 193 goals when he converted a penalty in Chelsea's 5-1 FA Cup win at Southampton.
But Lampard's agent, Steve Kutner, denied that an extended stay at Stamford Bridge for the England international was in the pipeline.
Kutner was quoted in the Daily Mirror as saying: "Chelsea executives told Frank in Japan during the Club World Cup then again reconfirmed with me after the Everton victory that in no circumstances will he be offered a new contract to stay at the club after the end of this season.
"Nothing since has changed in any respect.
"Frank has had to accept that and just wants to carry on playing football for Chelsea so as to finish the season as successfully as possible for the club that he loves."
Lampard has been linked with a move to Los Angeles Galaxy, following in David Beckham's footsteps.
Despite his uncertain future, Lampard has been in fine form on the pitch, scoring the fifth goal in Chelsea's 5-1 demolition of Southampton in the FA Cup third round.
The Chelsea faithful again sang 'sign him up, sign him up' and Lampard admitted he was moved by their support.
"They supported me throughout my career here and particularly in recent weeks," he said of the Chelsea fans.
"The way they were with me then is the way they have been recently and all the time I've been here. I just wanted to say thanks back.
"That is our platform to say thanks back when we're on the pitch, to first of all do the business because they pay the money to come and watch and when they have been so good to me, just to say it back to them. That is genuinely how I feel.
"This club has been amazing to me and the club is the fans so I can only thank them.
"I am enjoying my football, I have to say. I am enjoying the moment. I know there is a lot of talking going around but I am actually really enjoying playing.
"That's what it is all about really so even if there is certain things going on your head, I think when I run out there and the fans support me the way I do, it can't help but make you a bit emotional."