Bold and beautiful
Thommo expects United to fight fire with fire when they meet Barca in Saturday's Wembley showpiece.
Last Updated: 26/05/11 9:44am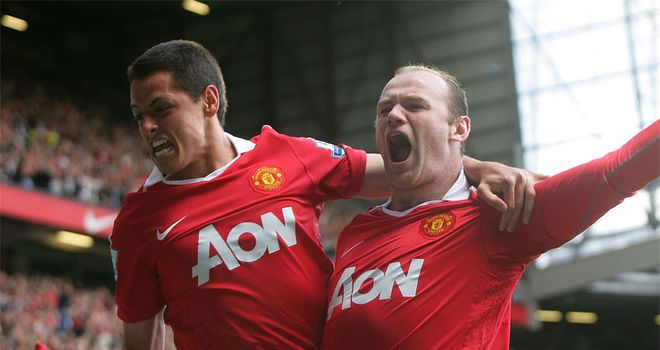 Manchester United have always got a chance, no matter who they play.
Yes, Barcelona are a fantastic team, the best out there, and they are rightly favourites, but you just cannot rule Manchester United out. Of any game.
There aren't many other sides in Europe, even in the Champions League, that you can say that about and there are even fewer who you would say could not only cope with Barcelona, but cause them plenty of problems as well.
For a start, do not underestimate the Wembley factor as well. I played there for Liverpool in the 1978 European Cup final and it felt just like a home game. We must have had 90 per cent of the support that night and it made a huge difference.
I know it's different now with the distribution of tickets and all the corporate boxes, but I still expect United to have 60, 65, even 70 per cent of the crowd on Saturday night. Yes Barcelona are experienced, but you've got ask how much of a difference that can make - especially during the periods when it is not going their way. And as good as United are, they will know they are in for times like that during the 90 minutes.
But the biggest question has to be, how does Sir Alex Ferguson approach this? How does he set his side out?
I would think he will fancy his chances, go for it. I expect him to take the game to Barca, fight fire with fire if you like. They are too big a club to sit back and worry about any opposition and what they are going to do. It's not the Manchester United way.
As soon as we see the line-ups on Saturday you'll be able to tell. If he is going to be conservative, try and stifle them, it will be Michael Carrick and Ryan Giggs in central midfield, with Antonio Valencia on the right and Ji-Sung Park down the left.
If Nani gets the nod on the left of a four-man midfield, they will be going for it, but that central area is so crucial against Barcelona, I can't see that happening.
Damage
Park always seems to get the nod in these big games, because you know what you're going to get. He works hard, backwards and forwards and gets the odd big goal, too. Dani Alves is such an important part of the way Barcelona play, he might just be the man to deal with him.
Nani of course, would give him plenty to think about going the other way, but if he comes in, I think we'll see Park moved infield a bit to a five, leaving Wayne Rooney up front on his own.
I can't see Sir Alex doing that though, because Xavier Hernandez and Rooney can cause Barca real problems. We will all be talking about what damage Barcelona can do but with those two up front, United have a real threat. Rooney will drop into deeper areas and you know Hernandez is always going to be on the move, always on the last shoulder.
To lose that twin threat would make life a lot easier for Barcelona. But it's a tough one for Sir Alex because whatever you do against this side, you have to make sure Xavi, Andres Iniesta and Sergio Busquets do not get a hold of the game in the middle of the park. Let those three settle and you're in for a long night - whoever you are.
I can see Fergie being mindful of that at first, but not over-cautious. It's just not his style.
And I don't think for a minute they will make extra special plans for Lionel Messi either. Not just because, as I said at the top, Manchester United are too big a club to do that, but also because you can't! And also because the last thing you want in a Champions League final is to be sending your players out with negative thoughts.
What can you do about Messi anyway? They are not going to man-mark him, I'm certain, so they just have to make sure that whenever he gets on the ball, wherever he is, they get on him right away. But that is easier said than done. He drifts deep, he switches position with David Villa, he pulls out wide to let Alves come into inside right or he just drops off to create a little hole for someone like Iniesta to get beyond him.
Problem
He is a nightmare to mark if you're a central defender and Rio Ferdinand and Nemanja Vidic would much rather be up against a traditional centre-forward, as it were. That's what makes Barca so difficult to play against, they all interchange so easily, they move the ball slowly, wait for someone to make that deep run and then boom, they've created and found a gap.
But by the same token, United can get at Barcelona, don't worry about that. If Eric Abidal is not passed fit, they have a bit of a problem. Pep Guardiola has been playing Carles Puyol at left-back because he's easing him back from injury and because he knows he's not blessed with great pace, so if Valencia is on his game, they have a chance there.
Javier Mascherano is quicker so would probably get the nod at centre-back but up against someone like Hernandez, he will need to have eyes in the back of his head all night long. And if Rooney can drop in between the backline and Busquets, that is where he is at his most dangerous.
I just think that has to be United's approach: focus on what they can do well, not anything Barca do.
But the problem is they know they are not going to have the ball for long periods of time, so they will have to keep their shape and discipline, make sure they do not all get attracted to Messi. Then, when they get it, they have to make sure they are on their game going forward - which, to be fair, they usually are.
Even with the talent he has at his disposal, Sir Alex has to make sure his tactics are spot-on and those Manchester United players have to make sure they all do their jobs; not one of them can afford to switch off, or make a silly mistake. Just sitting here going through it, you can see what a difficult job they have on their hands.
If anyone can stop this great team it is Manchester United, but I am afraid I think it might be too much, even for them.
THOMMO'S CALL: I am going to go for a 2-0 win for Barca. I do think United can cause them plenty of problems, especially at the back, but it is that central midfield, plus the movement of Messi, Villa and Alves that will be their undoing. When we see the team-sheets we will know what to expect from United and the game itself.
We are talking about two teams full of top-class players and two managers who are both very, very tactically astute and know how to win big, big games. Of course, there is a danger they could cancel each other out in that respect, but I think there are too many individuals on display to let that happen. It's the biggest club game in the world, at the home of football, so you've got to expect the stars - on both sides - to shine.