Can you better Barca?
Will Barca conquer Europe? Can their domestic domination go on? Guillem Balague's here!
Last Updated: 12/05/11 4:24pm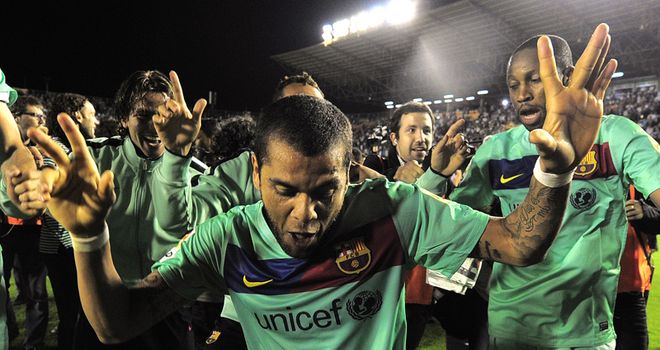 It's official. La Liga belongs to Barcelona.
Pep Guardiola's men confirmed their third successive Spanish championship following their midweek draw at Levante and can now focus their attention on the Champions League Final against Manchester United at the end of the month.
So can the kings of Spain conquer Europe? And will their domestic domination continue next season? Those are just some of the questions that our Spanish football expert Guillem Balague has been tackling this week.
Guillem answers your posers here on skysports.com every week throughout the season, so read on for his latest views...
WHAT HAPPENS NEXT?

Hi Guillem. It's been another fantastic season but looking ahead to the next campaign, people keep mentioning that Real Madrid could well catch Barcelona, but what do you think? Surely if Barcelona get their reported transfer targets - Fabregas, Rossi and Monreal - and La Masia products such as Thiago, Jeffren and Fontas progress well then surely the Catalans have every chance of continuing to dominate? Shane.
GUILLEM SAYS: What I would say about Real Madrid is that it seems they don't work on the way they attack in training. Jose Mourinho reckons that spending minutes together on the pitch during games makes the team attack better and he doesn't like to prepare that in training. So the more time that passes, the better they are going to attack and I think there's going to be an improvement next season. You can see they're going to have a much more versatile midfield with Nuri Sahin arriving and it seems Hamit Altıntop of Bayern Munich could also be on his way.
Of course, Barcelona will improve as well with Giuseppe Rossi or Alexis Sanchez and perhaps Cesc Fabregas. They will try to get him and, as you say in your question, the young players will break through. Mourinho thinks the key to next season is that Carles Puyol and Xavi have got one more year. And also how will Cesc adapt to life on the bench if he moves to the Camp Nou? I get the impression that things will be closer in the league and I also feel we will see a much more attacking Real Madrid with the players Mourinho will have at his disposal.
VICENTE VALUE

Kaka and Benzema up for sale? Where do you think they will go? Also, is Vicente not available to someone like Liverpool who could pay a nominal fee to Valencia for his services. Daniel Vaughan (Barcelona)
GUILLEM SAYS: There will be changes at Real Madrid. Kaka is wanted by Milan and Karim Benzema is up for sale (I wonder if anybody wants him). Also, the Vicente situation is interesting because he will go on a free this summer and I cannot believe that there are no teams in the Premier League that wouldn't want to sign this 29-year-old - and by the way, he would love to come to England. There has been contact between his agent and about five Premier League teams, but nobody has come in big time for him yet because they haven't seen him play much and there are doubts about his physical state. I've been told by Valencia that he is fine; he's just below Joaquín, Juan Mata and Pablo Hernández in their pecking order of wingers. I hope he makes it to the Premier League.
THE SPANISH SECRET?

Hola Guillem, Keep the blogs coming. Just like to know how come Spanish players are so talented and gifted at playing football. Do they start kicking a ball when they're really young or is it just the fantastic sport culture over there? Sean Lynch
GUILLEM SAYS: I think everybody has the talent; Brazilians, Argentineans, English, Germans, Spanish... it's just that because we're so weak physically we reinforce other parts of the game that can make a difference tactically and technically. The weather helps; you can individually train better in good weather and it's part of the culture that you need to be able to dribble, have a good first touch and keep the ball if you want to be a good player. I don't think Spain is superior to anybody; it's just a different culture.
REINA REMAINS

Hi Guillem, great blog as always. There was comments you made this week that made great reading for all Liverpool fans that said Pepe Reina is most likely going to stay at Liverpool. What do you feel were the main reasons that convinced him to stay and do you think one of them was investment in the squad in the summer? Dhiraj Sharma (Liverpool)
GUILLEM SAYS: He sees that there is a new project. I know people are afraid of that word, but what I mean by that is there will be new faces in the changing room and new ways of playing. They've obviously mentioned names and positions they want to reinforce and Pepe Reina sees that as progress. That's the reason why.
THE WEMBLEY WAY

Hi Guillem, just wondering what chance you would give United beating Barca at Wembley? Me thinks if it went to penalties we would have the mental strength and keeper to win. Also, lately I have been hearing a lot of rumours about the imminent return of Ronaldo to old Trafford in a swap deal for Nani Evra and £10 million. Could there be any fact in this wild dream? Jack.
GUILLEM SAYS: Cristiano Ronaldo going back to Manchester United is a dream that I don't think will come true and certainly not next season. It's a dream and a rumour, but nothing more than that. He's had his differences with Jose Mourinho at Madrid, but he will definitely stay there for years to come.
As for the Champions League Final, I think United learned a lot in 2009 when they were excessively confident. They won't make that mistake again, but I don't think they'll change much about the way they play. That's a mistake they made from the 2008 semi-finals, as at one point Wayne Rooney was even playing as a full-back!
This game is going to be very even. Barcelona are struggling to score and that's partly down to the fact they don't work as hard to recover the ball as they did earlier in the season because they are physically tired. When they don't recover the ball so early they have to build up from the back and that's much more difficult to do. I think Manchester United have got the best defensive structure in the world and if they manage to catch Barcelona on the counter-attack, through Javier Hernandez for instance, it's going to be such a huge task for Barcelona to score twice. The first goal will be key and the first team to score will probably win the Champions League.
I foresee a very equal final. The media will make it about the Spanish League against the English League and it's good to see the winners of both leagues in the final; that means the strongest teams in Europe have made it. I don't see it as England versus Spain though; I see it as Manchester United versus Barcelona in a one-off game.
Got a question for Guillem? Then send it in here or use the feedback form below, and then look out for his answer next week.