Edinson Cavani hopes to reach the level of Lionel Messi and Cristiano Ronaldo
Edinson Cavani aims to become one of the best players in the world at Napoli after signing a new deal in the summer.
By Simone Bargellini
Last Updated: 02/10/12 3:20pm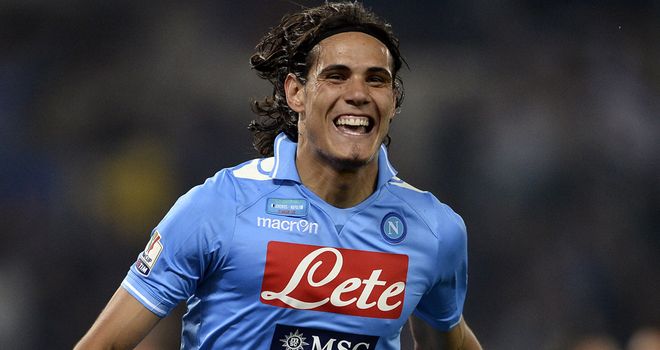 Cavani is thought to have been monitored by a number of top European clubs for some time, having performed superbly for Napoli over the past couple of seasons.
Speculation about his future was quashed during the transfer window, however, when the Uruguayan signed a new deal to stay at Napoli until 2017.
His release clause still stands at €60million (£48m), and the 25-year-old is now determined to repay the club for the faith that has been shown in him.
He told La Gazzetta dello Sport: "Did I ever think of going away? Choosing your team and city is always difficult, but if other clubs really wanted me, they had to make an offer that Napoli couldn't refuse. But it didn't happen.
"President De Laurentiis made a significant effort extending my contract and going along with my requests, he made me realise how he cares about me.
"To know I am worth €60million euros does not affect me at all. I would train and I would play the same even if I were worth only 10 per cent of this figure."
Cavani has also rejected the suggestion that he would have to leave Napoli to fulfil his ambitions and become regarded as highly as the likes of Lionel Messi and Cristiano Ronaldo.
He said: "I train every day with the same intensity to get to their level. They are two great champions.
"Anyway, I hope to reach the top with Napoli, because my only goal is always to win. This may be the year of Napoli."