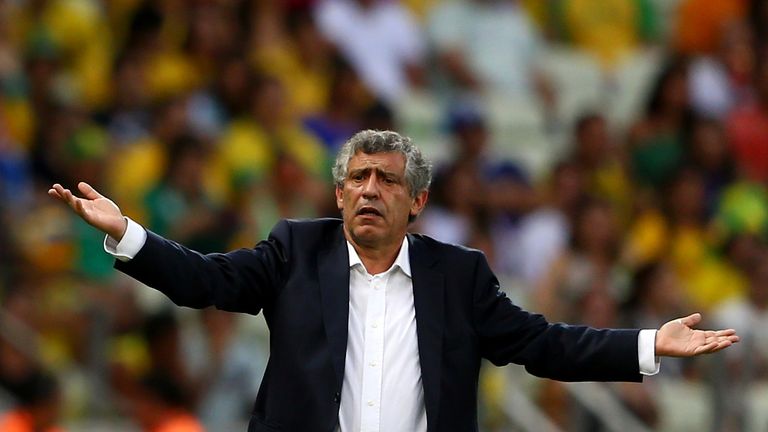 Fernando Santos has shrugged off suggestions that dogged defending once again helped Greece against Ivory Coast.
Santos saw his side progress to the World Cup last-16 on Tuesday as they snatched a dramatic 2-1 victory in their final Group C encounter, setting up a clash with Costa Rica in Recife on Sunday.
A last-gasp penalty from Georgios Samaras, three minutes into stoppage-time, saw Greece onto four points and into the second round at the expense of their midweek opponents.
Greece have relied heavily on their ability to shut games down in the past, and have netted just two times in their three outings in Brazil, but Santos believes criticism of their approach is unfair.
"I can only laugh at that, it is a joke," said the 59-year-old Portuguese.
"In football, one attacks and one defends. We know how to defend well but we are also good on the counter-attack.
We gave everything we had and in the end, the gods and the luck were on our side.
Georgios Samaras
"What I take most pleasure in is that this win will bring great joy to the Greek people."
Samaras, who is now a free agent after reaching the end of his contract at Celtic, is also of the opinion that Greece did enough against Ivory Coast to merit all three points.
He said: "I think we controlled the game most of the time.
"I don't think Ivory Coast created a lot of chances. From our side I think we scored a goal, hit the post three times and at the end we scored a goal.
"We tried the last 15-20 minutes to win because we knew if we won, we would be in the next round.
"We gave everything we had and in the end, the gods and the luck were on our side.
"We are really proud of our achievement. I am really proud of the result and our team. I hope we gave a smile back to the people in our country."